SOS Sport Solar Ovens
Information and specifications page
The Sport Solar Oven is one of the more unique solar cookers on the market today, and is built for durability, practicality and long use.
The Sport is also one of the more versatile solar cookers available.
It has room inside for two, quite large, cooking pots (included) and also permits smaller size cookie and cake sheets for baked goods.
It is designed to take maximum advantage of the sun's energy year round, with a more vertical angle for cooking in the winter time when the sun is much lower on the southern horizon.
The outer casing is manufactured using a very durable, lightweight, insulating plastic that will give years of cooking enjoyment.
Total weight with the reflector panels is a comfortable 11 pounds, making the oven very easy to transport.
The transparent cover, made of food grade acrylic/plastic is designed for maximum efficacy of cooking temperatures through the creation of an air pocket that helps in the insulation of the oven.
Included with the Sport are two (2) black enameled roasting pans large enough for a whole chicken and vegetables to fit easily inside of only one pot. It also includes a cooking thermometer, a water pasteurization indicator and an owner's manual.
Available for purchase with the Sport are the optional detachable reflector panels for more effective and efficient cooking results. (I highly recommend the reflector panels)
You can learn how to most effectively use and enjoy your own SOS Sport Solar Oven by following our adventures and forays into the fascinating world of solar cooking by going to our Solar B (log) and following and using our recipes and steps for preparing wholesome and delicious meals as we use our own solar cookers.

Afghani Women Purchasing
Sport Solar Ovens
For tips, suggestions and help using your Sport Oven
---
Solavore Sport Solar Oven and accessories  w/ reflector panels
$269.10 (includes shipping)
*Now on Sale for $254.99
good until 31 January 2015

Includes:
2 round covered roasters
CookBook/manual
WAPI
aluminum reflectors
Thermometer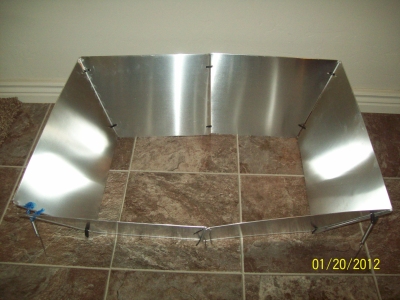 SOS (Solavore) Sport New Reflector
Panels Only (Aluminum)

$47.99
For replacement of older plastic panels
(Continental USA shipping only)

More durable than the original plastic panels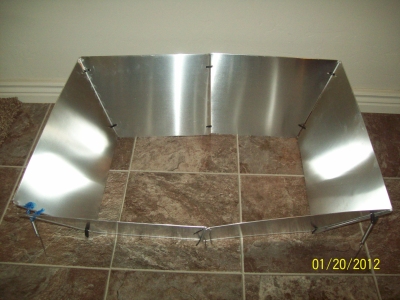 ---
We are one of many resellers of Solar Ovens and cookers on the market, so we promise to do our best to give you a quality purchasing experience as well as our 100% fully backed product guarantee included with all solar cookers that we offer on our site.
You can try the cookers for 180 days (6 months)and if you are not fully satisfied we will refund the full price of your cooker.Conditional Restrictions apply
* Return Restrictions are as follows:
+No refunds or returns will be given in the case of abuse,neglect and deliberate destruction of said solar cooker in question.
++If a solar cooker arrives damaged upon receipt at time of shipping, then we will refund the cost of the product or send you a replacement oven. Seller (we) will cover the cost of shipping also.
+++Buyer pays return shipping costs only on the regular 180 day trial return.
Do you own this same solar cooker?
How have you used this solar cooker in a unique or different way?

How have you improved this solar cooker and its capabilities?

Share with us and out site visitors...
Return from SOS Sport Solar Oven back to Styles of Solar Ovens