Copenhagen Solar Cooker Lite
The Copenhagen Solar Cooker Lite is a small, compact, inexpensive solar panel cooker made from attractively colored, durable, reflective vinyl covered panels.
$48.00 includes shipping
The Copenhagen Solar Cooker Lite is a great, easily assembled Kit-form style, solar panel cooker. This inexpensive solar cooker won't cost a lot for the person who wants to; "just try out solar cooking for the first time", or even for the veteran solar cook who would just like something that can be easily and conveniently transported in a pack yet still has the power to cook any kind of food you wish. One Customer's (user) raving reviews of the Copenhagen Solar Cooker
The Copenhagen Solar Cooker Lite:
weighs only 21 oz..
It disassembles down to a 15" x 15" x 1" size flat square.
It will fit in a suitcase, a cupboard, a car or a backpack.
It is made from 4 vinyl squares with a reflective surface.
Because of its curved shape it is stable in wind gusts, the air flows  around it.
Engineers call it "elegant"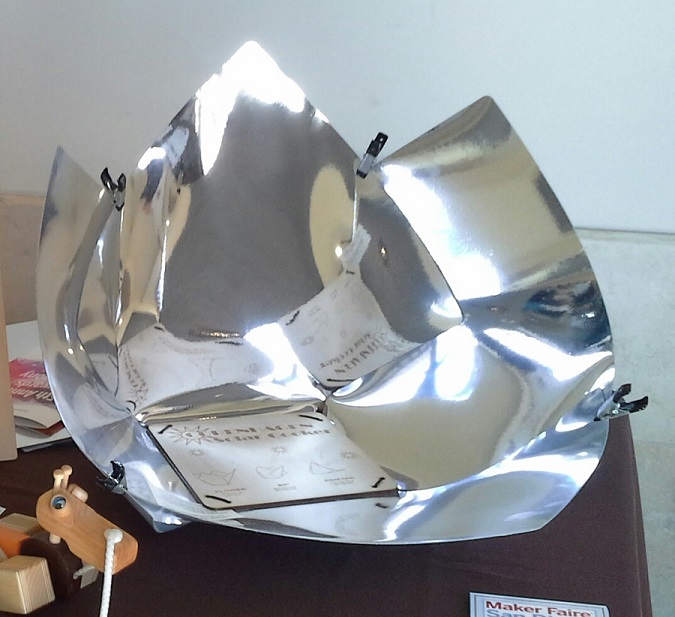 It is shipped flat and comes with directions and everything you need to assemble it. It should take about 15 minutes to put it together.
Great as an emergency cooker: Flood, Hurricane, Earthquake, Lost Hiking or Skiing, Power Outage, Fuel Loss. As soon as the sun is out you can cook dinner.
If you get lost camping the reflective surface makes a great signal device for air rescue to see you.
Use at home or at the kids games, take it camping or just keep it in your car with your emergency preparedness kit.
It cleans easily and the 4 panels can be folded out flat and used as place mats for a clean eating surface. The food cooks to a tender succulent flavor because you cook at more moderate temperatures when cooking with the sun.
Because it is lightweight and folds flat you can take it camping, fishing, Backpacking, to the beach or just use it at home. You don't have to spend a lot of money or tote a heavy cooker around to enjoy solar cooked food.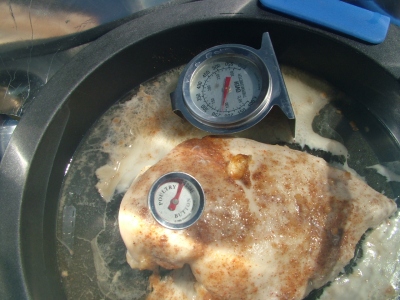 * * Teachers take note: this is a great tool to teach about heat radiation, conduction, and convection, plus solar energy.
Solar cooking with this cooker uses no fuel, it is the green way to cook anywhere.
* The highest temperature this cooker has reached is 475F.
For best results use with a black or dark pot/pan w/glass cover (not included) inside of oven bag in order to reach temps of 300 F degrees to 375 F degrees. (Occasionally 400 F)
Cook chicken breasts in 2 hours.
Cook rice in 2 1/2 hours
Bring water to 150 F degrees for 20 min to pasteurize.
Melt wax, Make Smores, Make Nachos etc. etc.
Your Copenhagen Solar Cooker Lite comes with:
Lace and clips to assemble the panels.
A small instructions booklet.
(* you supply your own oven/roasting bag, found in baking section of any grocery store)


See more on: how to set up and use the Copenhagen Lite Solar Panel Cooker


Do you own this same solar cooker?
How have you used this solar cooker in a unique or different way?

How have you improved this solar cooker and its capabilities?

Share with us and out site visitors...
What Other Visitors Have Shared
Click below to see contributions from other visitors to this page...

Copenhagen Lite Solar Panel Cooker- A Great Buy!

This was my first solar cooker & I use it with my class of 3rd graders. We've cooked cornbread, hotdogs, applesauce, pie, and macaroni & cheese with …
Return from Copenhagen Solar Cooker Lite back to buy a solar cooker