SunFocus Solar Hybrid Oven
The SunFocus Solar Hybrid Oven is the latest solar cooker to come onto the market and is one of just a few that are actually manufactured here in the United States.
(A large number of Solar Cookers that are manufactured and used around the world are from China and India, countries more advanced in solar cooking and cooker manufacturing than we are)
This new, American made cooker is based heavily on the design model of the Tulsi Hybrid Solar Oven from India and has the same hybrid electrical feature that has made the Tulsi a popular solar cooker with much of the solar cooking public.


The SunFocus-Hybrid Solar Cooker is manufactured by SunBD Corp., the same company who has been importing and selling the Tulsi Hybrid for many years here in the US.

The SunFocus Solar Hybrid Oven came about due to the many requests by Tulsi customers/users that liked the Tulsi oven but who wanted a much deeper and larger capacity solar cooker. Something that could solar cook after the manner of American cooking, principally for cooking loaves of bread, whole chickens, tall cakes etc.
The unique feature of the Tulsi Hybrid, or the low wattage electrical heating element built into the solar oven, is a principal selling point for that cooker because it allows for continued use of the oven even in the event the sun were to disappear due to a stormy day or night closes in before solar cooking was finished.And now, the SunFocus Hybrid Electric Oven, manufactured here in the USA is being offered with the same electrical back up feature making it truly an all purpose, all around cooker.
High quality materials and manufacture processes have resulted in a superior US manufactured solar oven that can cook as well as any solar cooker being offered on the market.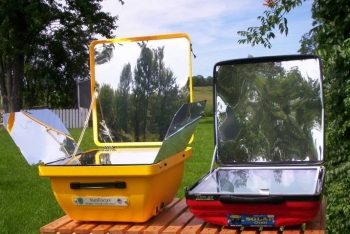 FEATURES:
Combination high performance solar oven and 110v. AC electric powered oven.
(Perfect for cooking anytime: 24/7/365)
HUGE internal cooking chamber... L13 ½ x W13 ½ x H 6 ¼ in.
(Enough room for: The biggest casserole dish… whole chickens… even a 14 lb. whole turkey)
Temperature range up to 400 F.
(Convenient, reliable, and economical cooking)
Double pained oven window glass for greater heat retention.
(Holds trapped energy longer for superior heating)
Scratch resistant anodized aluminum reflector panel for long wear.
(Higher reflectivity than a standard glass mirror)
Set of side reflector booster panels.
(Add & increase your ovens temperature)
Moisture resistant EPDM seal.
(Better long term heat retention)
Accessories... 6ft. power cord, oven thermometer, set of side booster panels & set up instructions.
(Everything you need to get started solar cooking on day one)
24/7/365 electrical system is energy efficient using typically 75% less electricity than your standard in-house oven...
(The cost to operate is pennies)
Rugged suitcase design offers clam shell like protection to internal parts.
(Sets up in seconds: Simple as opening a suitcase)
Portable for easy carrying or transport...
(Suitcase style design fits easily in car trunks, campers, RV's, or boats)
Use anywhere… Canada to the tip of South America...
(You cannot out travel a SunFocus™)
In case of an emergency!
(Be ready with the best in a Solar Electric Oven: Daytime/Anytime!)
Made in USA
SUNFOCUS® SOLAR ELECTRIC OVEN 3 in 1: All same features as listed above.
The new 3 in 1 model has the added benefit of a regulated low watt heating element
EXTRA FEATURES:
Luminous indicator lights
(Indicates the power is on or off and when the thermostat is functioning)
Resettable fuse
(Built-in safety protect in case of a power surge)
All the features of the 2-in-1 PLUS: Switch for high and low electric settings
High heat - a 300° F. electrical setting for baking for breads, cakes and roasts
Low heat - a slow cooking setting idea for simmering stews, soups and chilis.
* Individual performance results can vary from a variety of environmental or natural factors
3 in 1 switch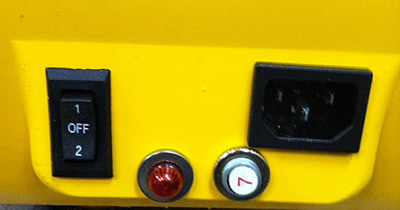 ---



Out Of Stock

Includes shipping within Continental USA


SunFocus 2-In-1 Hybrid Electric Solar Oven


Solar and Electric Capable

Luminous Indicator Lights

Resettable Fuse

Huge Internal Chamber



---
See our SunCook Solar Oven from Europe
See also our latest parabolic cooker, the SolSource
Return from SunFocus Solar Hybrid Oven back to Solar Cooker page