Worldwide Solar Cooking Initiatives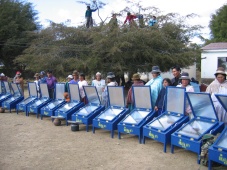 For many people living in the poorer regions of the world...
solar cooking has become the means to having a hot cooked meal most days, and has ultimately become the means by which they are able to afford basic food staples as opposed to spending their scant resources on cooking fuel..
Solar cooking has also become a great time saver and an important factor with regards to personal safety for many of the millions of refugees in Africa, Asia and elsewhere. Worlds largest Solar Kitchen in India.
With the ability to solar cook, many women and young children are not as prone to scavenge and search in dangerous areas for limited firewood sources, far from the refugee camps.
A solar cooker also allows them to conserve more of their meager funds (if any) to purchase fuel in the form of charcoal, kerosene, or gas thereby retaining more money for the purchase of food staples.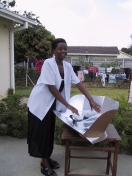 Through the availability of inexpensive solar cookers many of the worlds poor are, for the first time in their lives, able to enjoy a small bit of economic stability and a little more sense of personal security and well being by knowing they don't have to struggle so hard just to survive.
World wide, there are a number of organizations and individuals who have accomplished much amongst the worlds impoverished by bringing this means of harnessing a valuable, yet free energy resource to the hands of these needy souls.
In the USA there is a campaign to help put more solar cookers into the hands of the world's most needy by putting solar cookers into the hands of more Americans, in fact 5 million solar cookers into the hands of five million Americans...

In deference to these organizations, I have taken up a small part of the overall cause, and in my own way have worked to educate, inform, and instruct others within my own community and beyond about the necessity and benefit of adopting solar cooking as a viable and necessary alternative for use by peoples every where. Including right here in the United States.

In fact I personally feel that we can and should become an example to the rest of the world by greatly increasing our own use of this excellent tool, even to the level of institutional application, in due course.

Some may argue that; we here have no real "need" of using such a trite and insignificant form of alternative energy when, there are more impactful ways of harnessing renewable resources, such as solar panels or wind generators.But I suggest that every effort helps!, especially when it has to do with something so fundamental and as widespread as the preparing of daily meals.
As for me I will continue to work my small part of the garden in hopes of touching the lives of others for good with this unique God-given gift and opportunity.
Read about our Navajo Reservation Solar Cooking Project we did in June of 2012.
As more and more people here in our country are educated on the possibilities made available through this exceptional method of cooking, then much more can be accomplished in parts of the world with a real and urgent need. 

...I would therefore like to introduce you to a handful of the people and organizations that have already made a difference in the lives of many through their efforts to bring solar cooking to the world.
---
---

Solar Cooking Organizations and Their Initiatives: 
-------------------------------------- Solar Household Energy Inc 
--------------------------------------------- Solar Oven Society 
---------------------------------------- Solar Cookers International 
| | |
| --- | --- |
| Jewish World Watch | |
---------------------------------------------------- Solar Circle
---
The Wear Surma Clinic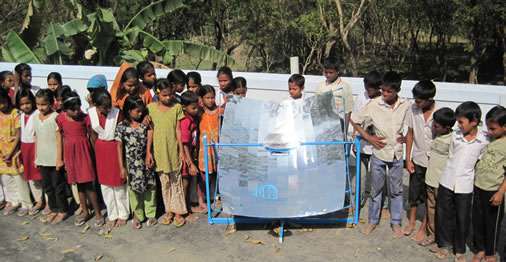 http://www.thewearsurmaclinic.com/ Bangladesh 
---
Vietnam Solar Serve

http://www.vietnamsolarserve.org/eindex.html
---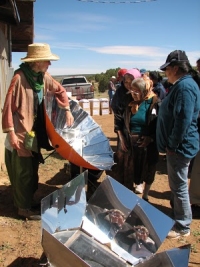 ANE (Adopt a Native Elder) Working on the Navajo Reservation.

Solar Cookers for people in need right here in the United States of America.http://anelder.blogspot.com/2011/03/solar-cooking-on-reservation.html
Here is great site: (SOLAR FIRE) about a loosely grouped organization of people who are helping to bring larger scale solar cookers to communities around the world, including in the USA. Here you can find information and see the results of many who are working to bring solar cooking to the masses. Solar Fire Project
---
*Besides the obvious benefits to mankind and the environment of; living in a sustainable manner, there will come a time when alternative means of "doing and living" will help us to better confront and deal with periods of disaster, trouble, unrest and scarcity.
Being prepared beforehand, for any emergency, will be the source of peace and stability for our families and communities alike. Solar Cooking can play an essential part in your Emergency Preparedness plans and preparations too. Emergency Preparedness with Solar Cooking
Read this article on the worlds largest Solar Kitchen in India. Also see the video of the kitchen at work. 
Return from Solar Cooking Initiatives back to Home page 

Go to: 
5 Million Solar Cookers in Five Years
Solar Cooking History 
Sustainable Living: Beyond Solar Cooking 
Donate a solar cooker 
Solar Cooking Education in Your Area/ Classses