Solar Cooking Pictures
We would love to have you share as well your own solar cooking photos with our site visitors. c
Click here to go to the submission form.

April 4th, 2009 Visit from Sun Ovens International President Paul Munsen, St. George, Utah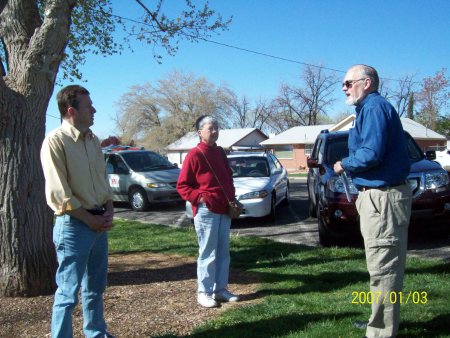 Nathan Parry, (L)Jackie Harsha, Paul Munsen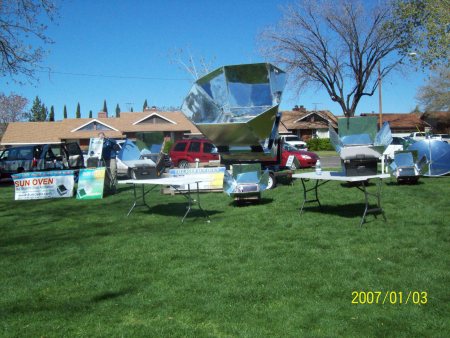 Giant Villager Global Sun Oven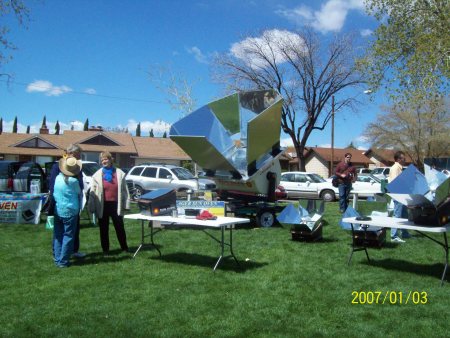 Villager with admirers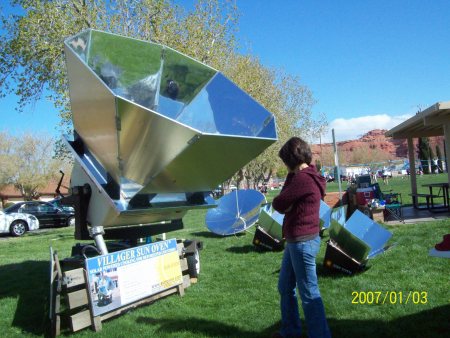 Learning about the Villager, My wife Patricia


Teaching our class, Paul Munsen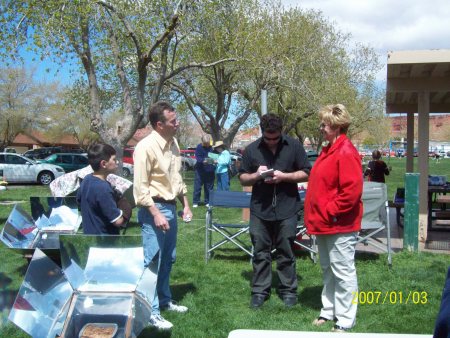 Solar Cooking Class member being interviewed by local paper


Sharing his experiences from around the world, Paul Munsen


Carrot cake in a Global Sun Oven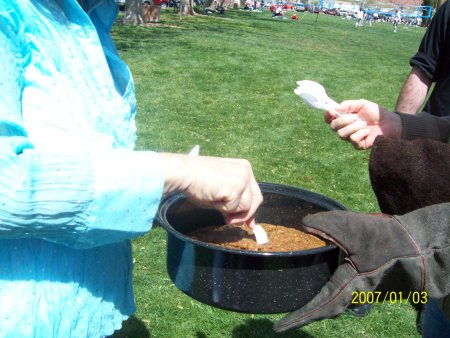 Trying out the carrot cake


Little Smokies in a Global Sun Oven


Cookie Dough to put into the Villager Sun Oven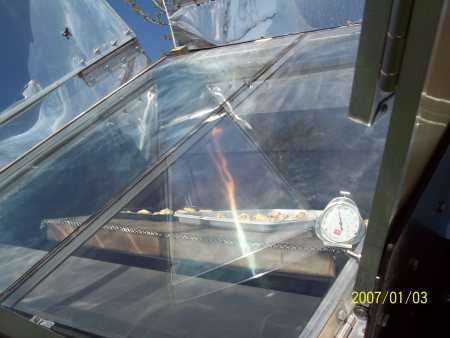 View from the front of the Villager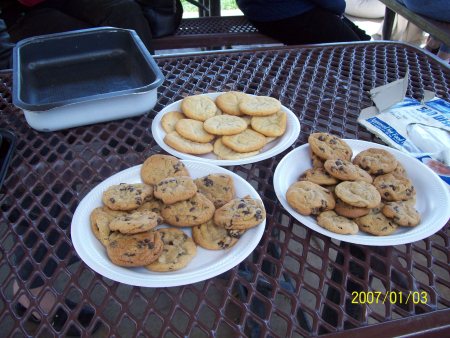 Finished Villager Cooked Cookies


---
Below are some pictures sent in by Malick Seck of Touba Solar Rama from Senegal, currently working in Senegal, Africa. 
Beginnings of a Parabolic Solar Cooker...
A little help moves it along
---
Finished Parabolic Cooker with a pot of fish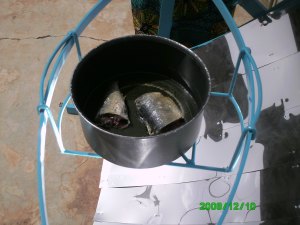 Added veggies, to make the meal complete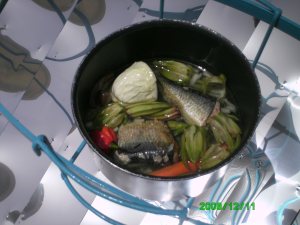 Fully cooked...fish stew?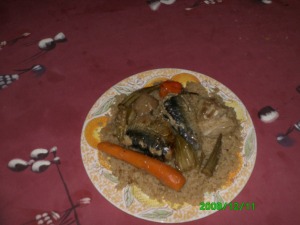 Now it's the lady's turn
---
March 07, 2009 St. George, Utah
Our Daughter Angela, Using the parabolic solar cooker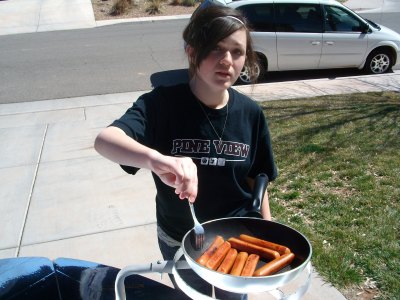 Angela,cooking hotdogs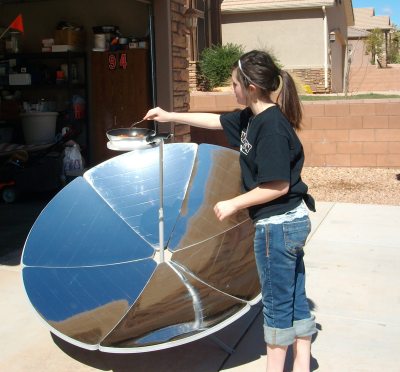 The heat is getting to her (or the beans)

Where am I? Oh, yes...the pot


A close up of the results

Dad takes his turn at the parabolic

Popcorn is popping...notice the steam
---
Dixie State College Community ED. Spring Solar Cooking Class 2009...click to read about it

March 21st 2009  1st Solar Cooking Class-St. George Utah 

Five different Solar Cookers were used for the class

My wife and kids fashioning a panel cooker

Students mingling and discussing the cookers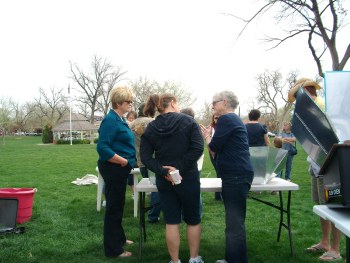 Three of my kids running the parabolic...clouds setting in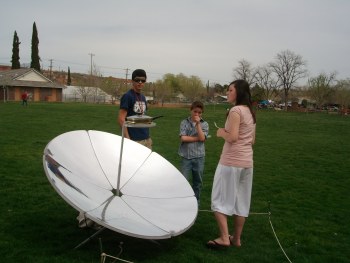 Students observing and discussing the cookers

Wheat Bread cooking for the class participants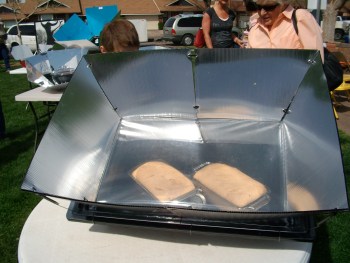 Class participants asking my children for information on solar cooking

Starting the Taco Soup in the Hot Pot

Our Second Dixie State Community Ed. Sponsored Solar Cooking Class in the park

Lots of Solar Cookers to cook for 35 class participants (the simple panel cookers were cooking eggs for Easter)

Simple Solar Panel Cookers with darkened canning jars cooking eggs for that day (Easter)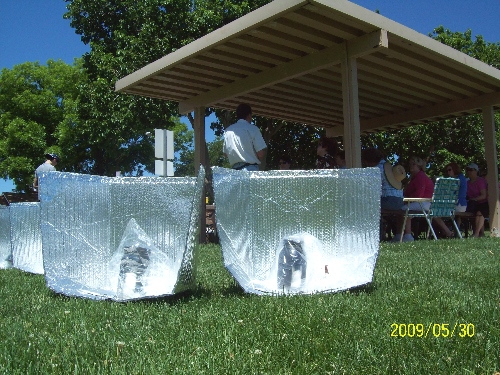 We fabricated 30 of these simple cookers for the class participants, each cost $5.00 to make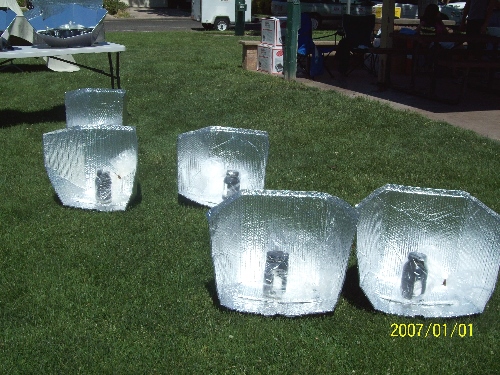 Solar Cooking from a high-rise balcony with a parabolic cooker
---
This is just a sampling of photos you can find on our site showing solar cookers being used world wide, providing environmentally sound and healthy cooking alternatives for the worlds poorer nations...and here at home.
+ Please visit us often to see more Solar Cooking Photos from around the World as we highlight the many benefits and joys of Solar Cooking.
++ To keep appraised of all that is going on in the solar cooking world, you can subscribe to our site RSS feed, which will automatically send you all of our latest updates. 
The orange RSS feed button is located on the left side of each page.
*Note: It is not necessary to submit your email or personal information in order to receive the RSS feed.

Share with all of us your Solar Cooking Experiences, Events and Photos
We would like to know all about your Solar Cooking Experiences; successes and failures as well as the cookers you use, whether homemade or manufactured.

Share as much detail as you would like...even submit photos as well.
Return from Solar Cooking Photos 3 back to solar cooking photos main 
Videos of the major commercial solar cookers