Emergency Food Preparedness by using a Solar Oven

When natural disasters or unforeseen events occur, you know that being physically prepared for an emergency with backups and reserves of food, water, power and shelter is usually the difference between security and peace of mind, or uncertainty and possible tragedy.
What role can a solar cooker play during times of Emergency or Disaster?
You would be surprised at how much a solar cooker can replace and do when routine items and services are not available.
A Simple Solar Oven and Cooker can play a Vital part in assuring that you have all possible scenarios covered in your emergency preparedness plans...after all, what good are your emergency food preparedness efforts if you have no means to cook it? 
Note: Organizations,consultants and governments constantly urge that each household or individual aught to have stores of extra food, clean containerized water, first aid supplies, clothing, back up power sources, money (cash) etc. set aside for the eventuality of uncontrollable disasters or events, whether they be natural or man made.

There are numerous resources available, through government, religious or private enterprise, designed to help the individual achieve a more heightened level of preparedness and self sufficiency.
You may find our sister site; Cantinawest Survial, helpful in your information gathering on Emergency Preparedness and Survial Topics as well as Survival Gear.

As we are a site focused on the use of solar power and alternative energy resource use, namely for the purposes of cooking , we want to focus on the ways that a solar cooker can benefit people from all walks of life, especially in the event of a disaster or crisis. 

We realize of course that conditions within any locale at any given time may not be favorable for using a solar cooker.
Stormy, cloudy and violent weather will most surely make it difficult, even impossible to use a solar oven. But, as everyone knows, these conditions will not always be present, or remain that way; in fact they are usually very short in duration.
The resultant effects of events such as; power outages, tornadoes, storms and such usually leave many hundreds and thousands without the basic necessities that are so common and vital to our customary standard of living; these usually include power, clean water, shelter, food and medical care. 

A solar powered oven can address several of these emergency needs in varying ways and with great results.
Clean Water, a most vital resource, can become contaminated through a variety of disruptions or compromises to the culinary water system in a city or town of any size and sickness can result because of it.Boiling water to remove the impurities is the best and most common way for individuals faced with such conditions, but not always are there means available to do this. Video:"Solar Burner" parabolic boiling water Without electricity or other fuel sources it would be impossible to obtain the heat levels necessary to boil water. But with a solar cooker you can easily purify enough water to meet the drinking needs of the average family. In fact is, it is not even necessary to bring the water to a complete boil since you can sterilize the water by merely pasteurizing it, thus increasing the amounts of water that can be purified in a day.


A solar oven can also be used to sterilize other items as well, such as medical instruments and cooking utensils. In some third world countries where there are epidemics of grain infestation, solar cookers have been used for sterilization of various grain staples.


A solar Parabolic Cooker can be used to pressure cook as well as do pressure canning and even run a solar water distiller with the right parts and equipment customized to a parabolic cooker.


Solar ovens can be used for such needs as warming or drying clothing articles, drying fruit and vegetables (at ventilated lower temps)melting wax for candles, beekeeping wax melting. And a solar parabolic cooker can be used for warming the body and hands in cold weather as well as warming/heating pipes for air and water heating.


The foremost reason for including a solar cooker among your emergency supplies is of course; to be able to cook your food when there are no other means available of doing so.


Ideally, it is a good idea to have several backup methods for cooking in order to cover all possible scenarios and conditions, these could include gas (grills, stoves) wood (stoves, grills, smokers) briquette (grills, Dutch oven), and other readily available fuel sources.
A solar oven though, needs no physical source of fuel, unlike the previously mentioned cooking instruments which use either fossil fuel or biomass fuel.
As long as the sun is shining you can cook any of your food stores, with very little exception.

Having a solar oven will add to your level of preparedness no matter the extent or degree of situations and conditions you may encounter.
see more tips and ideas on using a solar oven more effectively
The Year 2011 started out in a volatile manner with much change across the globe and much political unrest. Food and fuel costs surged and governments around the world are taking measures to assure a stable food supply. Food Costs at record highs and Global Food Staples rising costs
Despite the extraordinary measures to prepare for difficulties there is no guarantee any government will be able to help all of those in need, thus the need to prepare ones own stores, emergency preparedness supplies etc.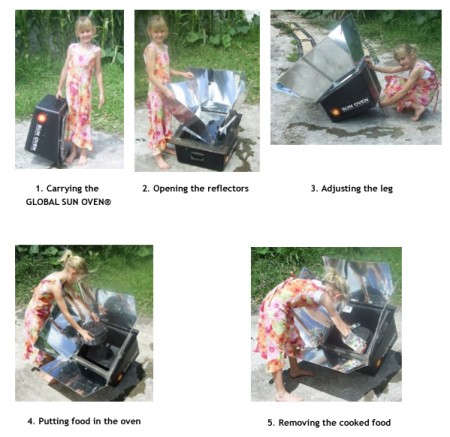 As shown in the above images; The Sun Oven can be carried like a suitcase and can carry food items inside the empty space to be used for later on when sheltering or on the move in times of emergency

See also our Rocket Stoves for Emergency Food Cooking
Surviving an "Electromagnetic Pulse" (EMP), how to prepare and what to look for.
Again, Visit Cantinawest Survival for more helpful information on Emergency Preparedness and Survival information


Submit Your Links to: Best Emergency Preparedness Sites
Help us to provide access to the best EMERGENCY PREPAREDNESS Sites on the Internet.

Submit your links or references to sites that you consider the best on the Subject of being prepared for times of disaster or emergency.

Please submit only relevant sites and information.
We reserve the right to accept or reject that which we feel does or does not meet our criteria.

Thank you.
What Other Visitors Have Submitted
Click below to see contributions from other visitors to this page...

www.bridensolutions.ca/blog Not rated yet
This blog covers the 8 areas of Emergency Preparedness in a very straight-forward way that allows even those who are new to Emergency Preparedness …
Return from Emergency Food Preparedness back to Sustainable Living


Go to: 
** Homemade Solar Ovens: Best Materials and Supplies 

Solar Cookers, Pros and Cons 

When is the Best Time to Solar Cook 

Hay Box Cookers 

Solar Oven Comparisons page of top commercial Solar Cookers 

* * Purchase your own Solar Cooker

Silver Reflective Vinyl for homemade solar cookers

See our newest Rocket Stoves for Emergency Preparedness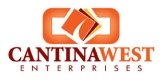 ---