Solar Cooking-Why?
Solar Cooking-Why?
Because you can cook your food without electricity, gas, fire etc...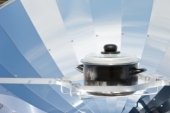 Listed here are some major advantages and benefits of solar cooking. 
If you would like more in depth information on more ways to take advantage of the powerful resources of our sun's energy please visit our partner site for more solar power facts.
Doesn't it take longer to cook using solar energy?
Yes, it can take longer with some foods, but with others the time required is almost as quick and efficient as traditional cooking methods.
Solar cooking can be compared to the "slow and low" temperature of Dutch oven or Crockpot methods of cooking.
Depending upon the time of day and even the time of year, your cook time will vary.
The biggest advantage to solar cooking is that you can leave it to cook on its own without the need to constantly tend it. It's almost impossible to burn the food.
There is no movement of air in a solar cooker, allowing food to stay moist and tender and flavorful.

Sun-baked roasts are tastier and more succulent, and sun-baked bread has unparalleled taste and texture.
Temperatures in a solar oven rise slowly and evenly, allowing complex carbohydrates time to break down into simple sugars, emanating subtle natural flavors.

The even temperature of the solar oven prevents burning, so you do not need to stir your food while it is cooking.
How much food can be cooked at one time?

If you plan on cooking large meals for numerous amounts of people you will definitely need more than one solar cooker. Most solar cookers can cook enough food to serve about 4-6 people depending upon the dish and the variety of food desired.
Single food dishes are easier to do in substantial amounts by using a large cooking pot. Remember though that; the larger the pot and food quantity, the longer it needs to cook.
If you want to cook more than one item, some solar cookers do not have sufficient room for many and different sized cooking pots.
You can find more tips on our site at solar cooking tips
Can solar cooking replace the conventional methods of cooking?
For some it can; and has done so...

Granted, there are some limitations with a solar cooker, especially when it comes to preparing complex and structured recipes.
…and of course weather and some locations also are factors. But, it is possible to cook every day that there is sunshine by planning and organizing ones meals ahead of time in order to take advantage of the sun's energy as it is available.
(I have found though, by much use and experimenting, that the amount and variety of foods and dishes that can be cooked in a solar cooker are quite substantial.
I have cooked everything from cookies and cakes to pastas and pizza, chickens and roasts to corn on the cob and baked beans; there really is no limit if you experiment with each dish.)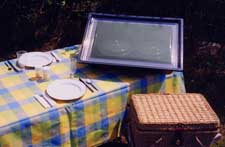 You can use them while camping; they are portable, no fire to worry about, and you can return to a cooked meal after leaving it to cook while away hiking.
At the beach to cook seafood, hotdogs, and more, or just warm up the already cooked foods you bring.
Great for RV'rs, boaters and fishermen
Out on the patio at home with the grill and other outdoor accessories to supplement your outdoor entertainment...
...Use the solar cooker wherever you may be.
Besides the obvious benefits, to mankind and the environment, of living in a sustainable manner, there will come a time when alternative means of "doing and living" will help us to better confront and deal with periods of disaster, trouble, unrest and scarcity.
Being prepared beforehand, for any emergency, will be the source of peace and stability to our families and communities alike.
Solar Cooking can play an essential part in your Emergency Preparedness plans and preparations too. Emergency Preparedness with Solar Cooking
We invite you to visit Mindy, a friend of ours, who lives in Mexico and has been an avid solar cooker for many years.
Share in her experiences as she brings you her own personal expertise and knowledge about solar cooking as well as other insights into sustainable living. http://www.solarhaven.org/SolarCooking.htm
Special Note: Since the Fall of 2007 all of the largest commercial manufacturers of Solar Ovens and cookers have noted increases in U.S. sales of 200% to 500% over previous year's sales. All manufacturers attribute the increase to a number of factors, but say that the principal reasons would have to be: The recent downturn in our economy; causing people to look for alternative ways to save on resources and expenses
Heightened awareness of emergency preparedness in the case of unforeseen and uncontrollable natural and man made events
and the skyrocketing and volatile state of energy costs such as electricity, oil etc.

Solar cooking may just be able to help your own family's situation!
Got a Question about Solar Cooking?
What would you most like to know?

How might we answer your Solar Cooking Question?
Submit your question and we will do our best to answer it for you.
What Other Visitors Have Asked
Click below to see Questions from other visitors to this page...

Go to: 

How to Solar Cook 
Building a Solar Cooker 
Solar Cooker Varieties and Styles
Solar Cooker: Pros and Cons 
Solar Cooking Where 
---