SunFlair Solar Oven

SunFlair Portable Solar Panel Cooker for suncooked goodness on the go... 
We are happy to present the newest Solar Cooker to our lineup; a compact, portable and very convenient solar panel style cooker.
The Sunflair Solar Panel Cooker is designed for the person on the go, who needs an effective solar cooker where ever they might be.
This cooker is: 


lightweight
very compact,portable
Made of weather and wear resistant materials designed to give many years of useful service.
This is one of a very few compact solar cookers for Backpackers, Survivalists and for quick Emergency Preparedness situations when space is at a premium.


The Sunflair Portable Solar Cooker is easy to set up and take down
Folds flat for easy portability
Cooks using only the power of the sun
Can cook meats, stews, soups, veggies, cakes, cookies and so much more
Cooks at temperatures of 200-285 F, ideal for slow, crock pot style cooking
Transparent glazing zips closed to better retain heat during the cooking process
Cooker alone weighs 1 lb; With accessories 3 lbs
* Dimensions are: 19" deep x 16" wide x 18" high 
Materials: 

-The reflective, or shiny, surface of the oven is made from aluminium polyethylene, commonly referred to by its brand name Mylar. (Mylar is food safe and is used much in food packaging and it tolerates temperatures up to 300 F.
-The outside fabric of the shell is polyester.
-The clear, transparent cover which permits the suns rays to enter the oven, yet traps and holds the heat, is made from transparent thin PVC.

...Don't let the looks of this solar cooker fool you, it really can cook effectively. I keep a SunFlair Solar Cooker kit (with accessories) in my car for emergency and daily use. It is compact enough that I can carry it anywhere and always have it ready whether it is heating up my lunch while on the job or heating water for dehydrated soup while out hiking in the hills. This would make a great addition to anyone's 72 hour emergency kit, but I recommend also keeping it handy for everyday use.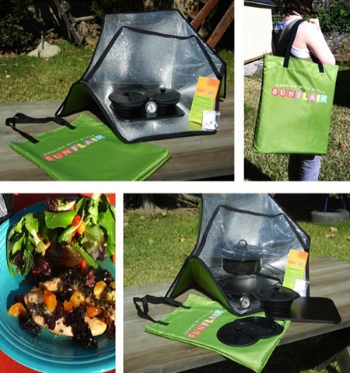 This Solar Oven Kit contains: 
Deluxe accessories:

2 black collapsible silicone cook pots (flat, easy to transport and store) 8" diameter x 2.5" deep
1 round covered enamel roaster -3 quart

2 black metal baking sheet 14"x 10.5"
2 wire cooking/baking rack
2 free standing thermometer
1 carry bag
Mini accessories:
1 solar oven
1 silicone pot w/ lid
1 heat-conducting trivet
1 solar oven thermometer

1 stuff bag 
The SunFlair Solar Oven accessories are designed for compactness and easy portability within the cooker and carry bag. 
SunFlair Solar Cooker w/ Deluxe accessories kit
Regularly $210.99
...Now only $199.99
(* Price includes shipping to all areas of the continental USA Only)
See Canadian shipping link below
(OUT OF STOCK)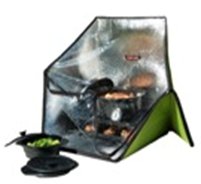 SunFlair Mini Solar Oven Kit
Regularly $124.99
...Now only $104.99 
(* Price includes Shipping to all areas of the continental USA only)
(OUT OF STOCK)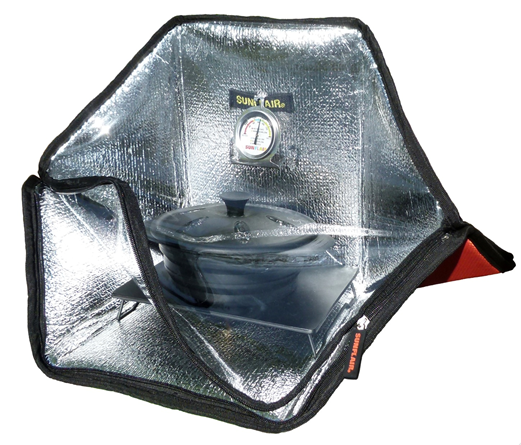 Return from SunFlair Solar Oven back to Solar Cooker main page
See our Hot Pot Solar Panel Cooker

See our Solar Burner Parabolic Cooker

---