Solar Cooking Tips: How to Become Proficient
It really is not difficult to master the skill or art of solar cooking. Many of the same skills that you use for traditional cooking methods will serve just fine when applied to solar cooking. The two biggest factors that will have much bearing on your cooking effectiveness will probably be time constraints (including weather) as well as efficiency in preparing and putting your ingredients together.
Are you a solar cook?...Share some of your own tips, tricks, techniques, and ideas on how you have gotten more out of your solar cookers and recipes. Share your tips
Time constraints will be determined by time of year, time of day and also hours available for most effective cooking . 
The most ideal time of the day for cooking in a solar cooker is between the hours of 10:00 AM and 4:00 PM, this being possible in the summer time when the sun is directly overhead for a longer period of the day. In the middle of Winter your "ideal" time will be reduced to between roughly 11:30 to 2:30 PM.
(In the middle of the summer I have started my cooking as early as 8:30 AM and have gone as late as 6:30 PM and was able to cook several dishes in one day in only one cooker. I do now have more than one solar cooker in my collection, which enables me to cook even larger quantities.)
From mid fall on through to mid spring, ideal cooking time is reduced as the sun continues to fall further into the southern horizon here in the United States. Ideal times would be more along the lines of 11:00 AM, and later, to about 3:00 PM, or earlier. This does not mean that you need to put the cooker away for the winter; it just means a little bit more ingenuity is required to take advantage of the cooking time available.
Granted, some people will have more challenges cooking because of home and work schedules, and that is fine, and you shouldn't replace the kitchen stove due to your new found source of harnessing the sun's energy. Look at the available opportunities you do have for solar cooking as unique periods of learning, experiment and enjoyment. The time will come when you will find further opportunities to use your solar cooker more and more often.
You can expect clouds to be a solar cooking challenge anywhere you might live, and even here in the desert we have our cloudy days. But, you can "squeeze in" some quick solar cooking with some of your fastest cookers, such as I did here with the Solar Burner and a quick batch of popcorn.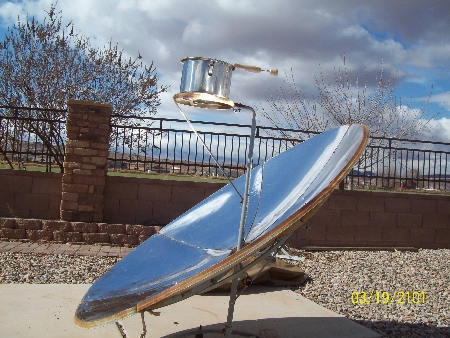 Then, there are those who have challenges with the weather itself. Within some areas of the United States there are those who enjoy a whole lot more sunny days than other areas, and some areas of the world are better than others, but this does not mean that a person in England or Seattle cannot enjoy the benefits and joys of solar cooking. In fact, within these same places and others similar in weather; there are quite a few people who have been solar cooking for many years and doing very well with it. They just might not be able to do it as often as someone living in Phoenix Arizona or the Sudan in Africa.
Now, more on the matter of efficiency while using a solar cooker
Organizational hints for solar cooking: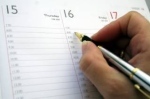 Even when cooking by conventional means, much time and effort is saved when you cut down on time consuming steps and unnecessary running around when preparing your meals.
Decide on your menus ahead of time; plan out your week, and particularly which meals you will prepare and cook in a solar cooker.
Prep most of the ingredients ahead of time and even the day before so that you can have them when you are ready to use them.
Pre heat your solar cookers an hour or two before having to use them.
Because the time necessary for solar cooking can be longer, depending on the dish, you can schedule, and perform other tasks and chores in and around meal preparation steps.
Use a timer for food preparation and cooking time in order to be more efficient and stay on schedule.
Use a food thermometer if you are unsure of temperatures for proper food safety.
Pre heat your solar oven and pans depending upon foods to be cooked.
Pre soak legumes(beans) and some grains the day before cooking,as well as marinating an preparing many of your meats.
You can fit a regular size muffin tray into the Sun Oven by placing it in depth wise as opposed to the narrower width wise.
And you can "bake" bacon rather than fry it, by laying it out in strips in your solar oven. It takes a bit longer but it cooks perfectly fine.




Time constraints-Tips:
The number one factor for the best cooking results is to make sure you start cooking your food as early as possible. More food requires more time.
Dry Beans and other legumes can cook all day long whereas pastas usually are ready in 30 to 40 minutes depending on type of pasta and amount.
Soups, stews, chili, and meats can be left all day long in a solar cooker to slow cook just as you would using a Crockpot system.
Rice will usually cook within half an hour to an hour if you preheat your cooker and water, this applies to pasta also.
Many two and three step recipes can be prepared using just your solar cooker in not much more time than using conventional cooking techniques.
On long summer, perfect weather days, set your meal to cook when you leave in the late morning and arrive home a few hours later to a hot and ready lunch.
The more often you uncover your solar cooker the longer it takes to cook, take the lid off as little as is possible.
Remember you do not need to constantly tend to the cooking food, it can be left for long periods of time, and it is quite difficult to burn foods in a solar cooker.
If time is a major factor, consider cooking your dishes in stages, even over a two day period, refrigerating ingredients until final cook stage.
Size and amount of food can affect cook time. Do not fill cook pots more than two thirds full and cut up food portions into as small as possible pieces.
Foods that have high moisture content do not need added water to cook, water only increases cook time. Foods that need water such as rice, pasta etc. only need the requisite amount.
When cooking dishes that have harder vegetables such as potatoes or carrots, and softer vegetables such as spinach etc. Allow the harder ones to cook and tenderize sufficiently before adding the tender veggies, which require less time, in the final stages of the cooking process
Some solar cooking cook times for various foods in a solar oven or solar panel cooker:
* Variations are due to the kind or style of solar cooker being used and the quality of the manufacture as well as quantity of food and daily sunshine conditions.

Bread-from 40-70 minutes (one to two loaves at a time)
Muffins, cupcakes, dinner rolls- from 20-60 minutes
Cakes- from 45-70 minutes
Cookies- from 10-20 minutes  (depending on type of cookie)

Eggs-poached in preheated oven 20 minutes. Hard boiled (baked) 30-60 minutes depending on quantity
Roast- from 90 minutes to 5 hours (longer cook time at lower temps for moister, more tender meat)
Chicken- from 90 minutes to 4 hours (longer cook time at lower temps for moister, more tender meat)
Stews, soups, chili- from 90 minutes to six hours  (longer cook time at lower temps for moister, more tender food)
Casseroles, enchiladas, lasagnas- from as little as 60 minutes to three hours
I have baked Angel Food Cakes in 70 minutes, Chocolate cheesecakes in 90 minutes, pumpkin pies in 90 minutes, brownies in 60 minutes, Gingerbread cookies in 10 minutes, bacon in 2-4 hours (depending on amount)  See our recipes page for ideas and times

Solar Parabolic cookers can cook food items much faster than solar ovens and panel cookers.

Food Safety:
When used properly; a solar cooker can safely cook all kinds of food.

Extra care should be taken when cooking meats and legumes to assure that temperatures do not fall within the danger zone for creating harmful microbes such as bacteria or viruses. These harmful microbes can be killed when the food is heated to 65° C or 150° F, this is called pasteurization. When the food is heated to 82° C or 180° F or above it will begin to cook. After food is cooked it should be eaten as soon as possible after doing so, do not allow food to sit at room temperature for more than two to three hours
Miscellaneous tips
If you are not able to find black or darkened pots and pans for use in your solar cooker, you can cook your food in jars. Canning jars are preferable because they are designed for high pressure and heat. Regular clear jars can be used if you do not seal them too tightly in order to diminish the possibility of exploding. You can paint them black for better heat absorption.
For faster heat conductivity use thin, shallow, aluminum or steel, cooking vessels (preferably with a lid) and do not overload them.
For greater concentration and retention of heat inside of your solar oven, use oven cooking bags to enclose your jars or pots. It will also help to retain more of the food moisture.
Consider using a Hay Box to free up your solar cooker in order to cook more food, more quickly.
A hay box can be used to continue the already commenced cooking process that was started in your solar cooker without having to occupy it longer than necessary. Find out more on how to use a hay box
You might use a "lazy susan" on which to set your solar cooker so that you can easily turn your oven and track the sun without having to scrape it on the ground or suddenly jolt the oven and contents when turning it.
Remember to keep your reflector panels and your transparent door/cover clean, free from dirt and from marks. This will ensure a more effective concentration of the suns rays onto your cooking pot and food.
Want to solar cook pasta faster?  Bring water to simmering in a pot in your solar cooker while separately heating the dry ingredients in another. When both are hot, combine them and cook for reduced amounts of time. The consistency of pasta is greatly improved by this method, particularly if a little oil is stirred into the pasta before heating.
Non-traditional solar cooker uses for your non-cooking needs

Solar Cooking a Pie; parts one and two
Hi Nathan:
I just found your website on solar cooking. It is a great site.
Thanks for all the information.
I am working hard to learn more about this, and have many ovens I am testing (informally).
I would like to hear more about your classes. I live in Colorado, but I would like to hear more about how you teach this to others. Solar cooking is a great gateway to learning about clean energy.
I really enjoy your site. It is very educational. You do include all the issues of sustainability as well, and I appreciate this in addition to the other reasons people choose to use solar cookers.
I wish I could take your course!
Many thanks,
Mary Carhartt, Colorado
Return back to Home page


Go to: 
Why Solar Cooking
How Solar Cooking Works
Solar Cooker Varieties and styles
Solar Cooking Where
Solar Oven Comparisons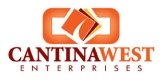 Do you have any Great Solar Cooking Tips?
Share with us and others your Tips, Suggestions, Ideas and methods for getting the most out of your solar cookers.

Share the best way to prepare and cook different foods such as...pastas, rice, meats, pastries etc.

Any Challenges with Wintertime Solar Cooking?
How do you brown foods?
How do you avoid over or under cooking rice?
How do you cook corn on the cob? etc.
What Other Solar Cooks Have shared
Click below to see contributions from other visitors to this page...

---