A Tale Of St. George and the Monsoon Dragon
by Joyce
(UT)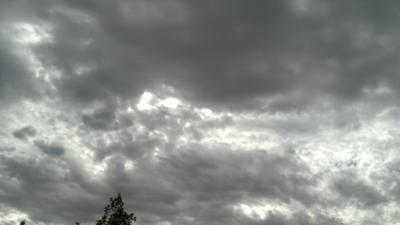 The Monsoon Dragon over St George
Once upon a time, Saturday July 21, 2012, The infamous Monsoon Dragon had settled in on the usually sunny little city of St. George, UT with a stranglehold!
However, a brave Solar cooking teacher agreed to do battle with the Monsoon Dragon and so at the agreed upon place and time, She set up her tables and chairs, and even deployed a "special weapon" known as a patio umbrella to provide shade.
And then she set out a rising loaf of bread and eggs and bulgur as bait.
As people showed up for class, the Solar Cooking Teacher entertained and taught, and waited and waited and waited for the Dragon to back off. It did for about 2 min. which was long enough to demonstrate how to focus a Sun Oven.
But alas, after that short victory, The dragon fought back even harder and sent rain!
I guess the victory has to go to the Monsoon Dragon on this battle but September will come and brave Solar cookers everywhere will unite and win the war!


_______________________________________


How dramatic your solar cooking tale...and how
brave your quest!

The sun will come out tomorrow...right?

Nathan
Admin.
Join in and write your own page! It's easy to do. How? Simply click here to return to Share your Solar Cooking Experiences, Event or Photos!.
---