After the rains have gone, the solar cookers will come out... and other musings
by Nathan
(St. George, Utah)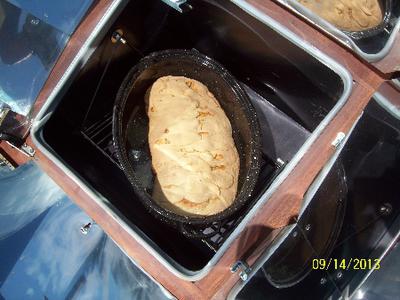 Kuchen de Manzana (Chilean Apple Pastry)
It was a sunny day and a very productive solar cooking day as well this 14th of September 2013.

We have had about three weeks of clouds and rain, lots of rain this last week. It has been unusually wet for this area at this time of the year, but I guess we should be grateful that we have received this much needed rain.

Today we made Kuchen de Manzana (Chilean version apple pastry) in the Sun Oven, popcorn on the Solar Burner, scrambled eggs on the new SolSource, Baked Cinnamon Apples in the other Sun Oven, Manjar (dulce de leche) on the Solar Burner and we reheated the Italian noodle soup and Spanish Seafood Paella in the Sun Ovens for our early dinner today...so, we are back to our customary solar cooking ways since the clouds and rain have moved on.

I miss being able to use my solar cookers when the weather does not permit, but we do have back up methods of cooking for those kinds of conditions. We have propane bbq and stoves, as well as briquets for Dutch Ovens and we have wood and other bio mass fuels for burning. So if the power were to go out we would be set, especially since we could greatly extend the life of our expendable fuels by using solar most of the time.

I look forward to a time when millions of people (Americans) are using solar cookers to cook a good majority of their foods as well.
Join in and write your own page! It's easy to do. How? Simply click here to return to Share your Solar Cooking Experiences, Event or Photos!.
---