ASSC All Season Solar Cooker
by James Wampler
(Shelbyville, Ky. USA)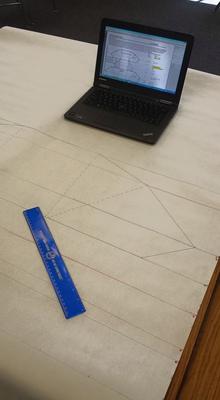 I'm getting pretty amped about getting this All Season Solar Cooker set up. I have bought the materials and spent time trying to get all of the points mapped out on a sheet of paper that was big enough to accommodate the design (I ended up having to cut out additional lengths of paper to make the posterboard wide enough for the design to fit.

I really appreciate that Jim La Joie provides his knowledge for free, while also selling his cooker online. I do not have the funds to buy it online, and rarely do I have the time to fiddle with it, but it is a nice side project. Today I finished mapping all of the points and connecting the dots.

He apparently has a jumbo cooker, but I have been unsuccessful in getting a copy of those plans. I have contacted him through facebook, but I have not heard anything back yet.

As said before, I love that his design makes two cookers. I would like to put one outside each of my classroom windows while the students are learning about solar cooking...or if I were less selfish, I would give a copy to the other science teacher who will be following along with my class.

A few words of encouragement to those who undertake building the ASSC. See if you can get access to a large, level, raised surface. I used student tables, and none of them are level. I also used a rigid tape measure, which made drawing the lines hard. I would suggest either having a floppy tape measure, or a long, straight edge.

Measure twice, cut once. His plans are free, so you can't complain, but they are not to scale, and the lines don't always line up with the measurements. Just take your time and be careful.

Securing the polypro corrugated board might be difficult. It took quite a few phone calls to find a place that would sell it in single quantities. I made a paper template so I could run through the process before I begin cutting up the plastic board. It will also come in handy when I decide to make more, because I won't have to measure and cut multiple times.

One thing I plan on checking with two cookers: I have some mylar emergency blankets. I am thinking of lining one with mylar, and the other with the tape that he recommends. The mylar seems to be much more reflective. I'm curious to see what kinds of dividends it pays off.