ASSC Part 2 Ready to cook!
by James Wampler
(Shelbyville, Ky. USA)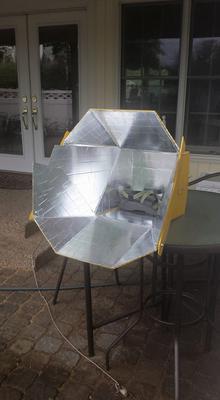 My Finished All Season Solar Cooker
This week, I finished the All Season Solar Cooker. As said before, I like that you can build 2 from the plans...because I had a *few* learning areas on my first go-around.

The main thing that I have to figure out is making the sun sight. I have to find someone that has a table saw that I can use to make the cut on my block.

I was not as patient as I should have been with applying the tape. My tape is not as smooth as it probably could be. It is primarily cosmetic, but I might want to take a little care on my next model.

I attempted a last minute thermometer check yesterday while I was teaching to see if I could get a reading on how hot it might get during the day, but I was unable to really get a look at it or move the ASSC while teaching in order to track the sun for most of the day.

As I prepared for that test, I saw that my pyrex bowl system didn't really fit. I shoehorned it in there, but it was a little more tight than it seems in the online videos - i heard in a youtube video that the store-bought version has a 12" cooking space, whereas the plans are 11. No biggie!

Will post later once I get the sun-sight made and get some data.

In the meantime, I'm going to look into a modified cook-it so that I have a better idea of what students are capable of. I'm still looking for morning cooking tricks because I have two classes that are going to get the short end of the stick when it comes to cooking (9:30am-10:30am and 10:30am-11:30am)

This is where I think the ASSC should have a chance to shine (forgive the pun) with its ultra-low setting in "Winter mode" - - I just need to find out if it will truly develop cooking temps at 9:30-10am and if I can find a way to quickly train up 8th graders in how to construct it well.