Bacon, Chicken Nuggets or Corn?
by Shellie
(Utah)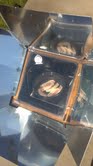 Solar Cooked Bacon in a GSO
Yes! A few nights ago we had a variety of foods for dinner ALL of which were cooked using only solar power! It was kid's choice night at our house and so dinner included corn on the cob (boiled on our parabolic cooker), bacon (cooked to crisp perfection in our Sun Oven) and chicken nuggets (warmed nicely in the Sun Oven). I have 3 little kids and this dinner was a few of their favorite foods. How happy I am that all of their picks I could prepare for them only using the power of the hot southern Utah sun!!


________________________________________


Nice variety!
It sounds like a menu we do at our own home with our solar cookers...we sometimes will do up to eight different things in a day.
Chicken Fajitas for us today...
Thanks for sharing.

Nathan
Admin.
Join in and write your own page! It's easy to do. How? Simply click here to return to Share your Solar Cooking Experiences, Event or Photos!.
---