Balcony Solar Cooking
by Patricia
(CA)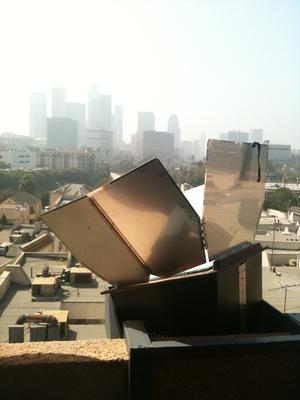 I live in a condo. Consequently solar cooking was a bit of challenge for me. I had a balcony, but it had an overhang that shadowed the area most of the day. Luckily, I have a handy father-in-law that was willing to make a ledge (that fit over the side of the balcony) for my solar oven. It just goes to show that with a little thought, you can solar cook anywhere!

The picture shows me making Kaluah Pork. I've been solar cooking for over a year now and loving it!


___________________________________________


Hey, that's great!
I love hearing and seeing the ingenuity of some people when it comes to solar cooking and taking advantage no matter what the circumstances.

Thank you for sharing this, I hope it will be a motivator for others that can't quite see how they can solar cook because of some circumstance.

Great pictures also.

Happy Solar Cooking!

Nathan
Admin.
Join in and write your own page! It's easy to do. How? Simply click here to return to Share your Solar Cooking Experiences, Event or Photos!.
---