Can You Guess What The Most Important Thing I Planted In My Garden Is?
by Joyce Lee
(S UT)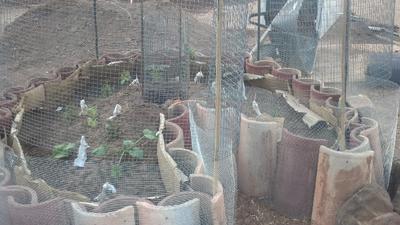 Keyhole Garden
Here We Are Already Into The First Week Of May And I Have Yet To Be Successful In My Garden Adventures.
This Year, I Researched Drought gardens And Found A Wonderful Concept From Africa Called A Keyhole Garden Which Is basically A 6 Ft Diameter Raised Bed Garden With A Wire basket In The Middle To Hold Kitchen Scraps And Grass Clippings, Etc Which Also Is Where You Water The Garden At. A Pie Shape Wedge From The Center Basket Out Is The Keyhole Where You Have Access To The Center. The Water ( 1-2 Gallons Per Day) Seeps Through The Compost In The Center And Waters The Middle, Seeping Down To The Rest.
The Idea Is That The Compost And Organic Matter In The Center Basket Keeps The Soil Moist And Feeds The Plants.
That Part Of The Plan Is Working Amazingly Well.
The Part I'm Struggling with Is Weather And Critters!
I Got Things Planted The Second week Of April And We Had A Hard Freeze Which Doesn't Happen That Late Usually! So I Had To Start Over!
My Beets And Radishes And Lettuce Plants And Sees We're Dig Up And Eaten By Chipmunks!
So I Planted Again. A Big Rainbow And Celebrity Tomatoes, Tomatillos, 4 Varieties Of Summer And Winter Squash, Green Beans, Chard, Cantaloupe, Mini Watermelon And Bush Cucumber. Oh And Green Peppers!
The Chickens Got Out One Day and Made A Beeline For the Garden Before I Noticed And Ate All The Chard And Most Of The Tomatillos And Beans And Were Working On The Squash And Melons When I Discovered The Thievery!
Darn Chickens!
So Yesterday I Planted The Most Important Item In The Garden. A Mesh Fence Completely Surrounding It!
Here's Hoping I Get Some Good Harvest Eventually because One Of My Favorite Yummy Dinners For When Tomatillos Are In Season Is Tomatillo Chicken Cooked In My Hot Pot!

Join in and write your own page! It's easy to do. How? Simply click here to return to Share your Solar Cooking Experiences, Event or Photos!.
---