Cooking Ahead of stormy weather
by Joyce Lee
(UT)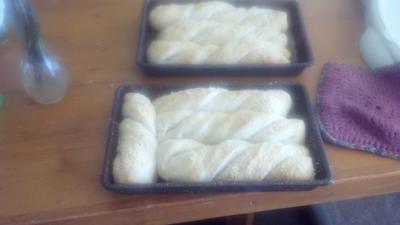 breadsticks
Living Off The Grid Really Puts You In A Different Rhythm With Life Compared To Living In A Stick Built House Hooked Up To instant Power Whenever You Want It Day Or Night.

The Only So Called "Modern Convenience" I Use Is A Smart Phone. I Consider Technology A Huge Blessing And A Necessity And I Have No Less Than 4 Weather Apps On My Phone Which I Check Daily. Of Course With 4 Different Apps, You Get 4 Different Reports Daily. They Rarely Predict The Same Thing But All Together, They Let Me Get A Clue On Patterns Developing So I Can Plan Ahead.

When Inconvenient Weather Is Coming, I Get Busy And " Cook Ahead". Since Solar Cookers Are My Main And Preferred Way Of Cooking, I Make Sure My Breads And Grains And Snacks For Husband's Lunches Are Done And Bagged Up To Carry Us Through Any Bad Weather Till I Can Cook Again.

Earlier This Week, I Baked Bread, Oatmeal Cookies, Orange Rolls, Bulgar, Hard Boiled Eggs, Potatoes, Chicken, And Polenta.

Sure Enough, by Wed., We Got Cloudy, Stormy, Super Windy Weather But We Have Ingredients To Throw Together Different Salads, Sandwiches, And Other Mealtime Combinations Using The Foods I Have Baked Ahead Combined With Canned Foods And Fresh Produce.

What Foods Do You All Cook In Your Solar Cookers To Last Awhile Through A Patch Of Stormy Weather?


__________________________________________


Great Insights Joyce,

Thanks,

Anyone else live in this manner where you have to use lots of ingenuity?

Nathan
Admin.