Cooking at 5 degrees.
by James Wampler
(Shelbyville, Ky. USA)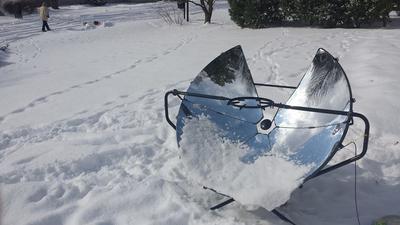 In Kentucky, we typically don't deal with snow incredibly well. We recently received 8 inches, which has been affectionately dubbed the "Snowpocalypse"

You can forget about finding bread, milk and eggs at a grocery store. School has been out for 4 days now. Part of that has been that it is too cold for the ice on the roads to melt...which makes it hard to ensure student safety.

Right now, it is 5 degrees Fahrenheit, with a windchill of -11.

The sun came out, so I took advantage of the opportunity to show the ability of solar ovens to operate even in intense cold. I cooked pancakes, eggs and chicken. The chicken was for burritos, which I will be making in bulk and then stuffing in the school freezer. (One less thing I have to worry about during the week!)

I will post the promised update on the Copenhagen stove tomorrow. I built the stove, but the modified cardboard was still to stiff to work well.

Copenhagen part 2 will have to wait! As a proof of concept, I might use the leftover reflective vinyl to make the stove, as I'm pretty sure that the original Copenhagen was just vinyl sheeting...