Copenhagen pt 2 Magnets. Magnets everywhere!
by James Wampler
(Shelbyville, Ky. USA)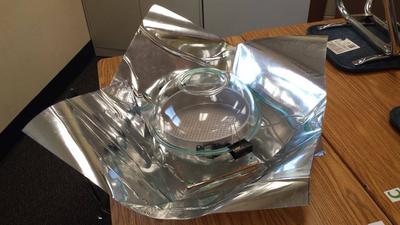 I finished the copenhagen in the classroom the other day, but I did not have any clips that would work to hold the reflective sheets together. I used magnets that I had lying around instead. It worked pretty well!

We just had another 13+ inches dumped on us, which means two more days off from school. Tomorrow is sunny, so I'll post on how it is performing. In the pictures, I used the roll of sticky-back reflective vinyl that is sold on here; I think I will get some posterboard to stick it to, because it seems to hold the curve that it inherently has from being stored in a roll. The curved sections are not reflecting sunlight into the cooking area.

On version 3.0 I would like to increase use of magnets to make setup a little easier. The base could be magnetized to snap together instead of using twist ties, and the magnets holding the pages in place would probably need a light felt or chamois backing so that they do not create lots of scratches on the reflective surface.

I went out to buy some black cookware or darkened cookware, so we will see what happens tomorrow! If the sun comes out as expected, it will be the first time I've put the copenhagen to use.