Cosmological Cake (Orange Chocolate Chip Cake)
by Christa Upton
(South Dakota)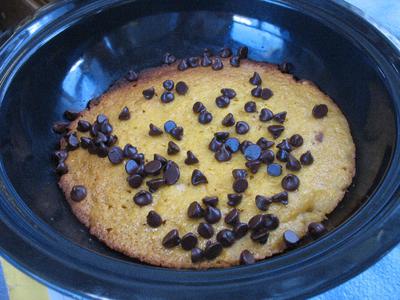 Orange Chocolate Chip Solar Cooker cake
Recipe 27 in the Solar Hot Pot


Cosmological Cake (Orange Chocolate Chip Cake)

Orange and chocolate—what better combination is there? (Unless it's cherry and chocolate, or almond and chocolate, or chocolate mint or .... Oh, sorry, I was on my chocolate island dreaming for a minute there.)

10:45 am—grease lower half of Solar Hot Pot with butter, cover, set up facing the sun (to preheat), set timer for 15 minutes.

Then make batter by gently mixing (do NOT mix very much):

2 c. unbleached white flour (or 1 c. white and 1 c. whole wheat pastry flour)
1/2 c. sugar
1 t. cream of tartar
3/4 t. baking soda
1/4 t. salt
1/4 c. olive oil
2/3 c. frozen orange juice concentrate, thawed completely (but not diluted with water)
1 orange, zested (optional)
2 eggs, lightly beaten

It's a bowl of sunshine already! Pretty batter. (Yes, I'm weird for thinking batter can be pretty. LOL)

11:00 am—pour batter into Hot Pot, cover, set timer for 60 minutes.

Get chocolate chips out. Eat a few. Go look at Hot Pot curiously.

12:00 pm—quickly throw in a couple handfuls of chocolate chips, cover, adjust to sun.

I was about 15 minutes late throwing the chocolate chips in; I was going to let them sink into the batter a little , but the cake was already set!

High noon + mid-summer sun = baking a fast solar cake! (smile)

I put the chocolate chips in to melt on top (they'll taste great anyway). The top of the cake is browning a little bit; looks YUMMY!

If yours is not done, check every 20 minutes or so. If browning unevenly like mine was, turn Hot Pot 180 degrees (Hot Pot only, not reflective panels). I let mine go a little while longer to stay warm during lunch and melt the chips.

Serve with glasses of ice-cold milk.

Mmmmm. This is the way I like to get my vitamin C. LOL

Hot Pots are on deck for mushroom burgers and glazed carrots tonight! I'll put that in a separate post.