Death Valley Solar Dinner
by Joyce
(UT)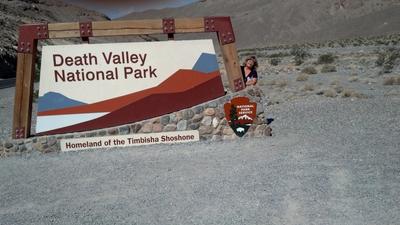 At the entry to Death Valley
This month I had the opportunity to travel to Death Valley National Park in CA to help a British film crew do some solar cooking.
They are filming a children's series called Extreme Planet and one of the episodes was to feature the hottest place on earth which also happens to be the lowest at close to 300 feet below sea level.
The film crew were very fun to work with. Really nice and thoughtful people and I considered myself lucky to make new friends among them.
We were scheduled to meet at 2:00 p.m. to ride out to the area they wanted to film at (Bad Water road) but they had been filming a climbing scene at another location so were late getting to our meeting spot at the resort.
Since my husband and I had arrived at the park several hours earlier, we had time to check out the visitors center, Museum and resort. I solar cooked our lunch consisting of Cheesy garlic Polenta, and a yummy chocolate spice snack cake out on the resort lawn while we waited. Soon we had visitors from all over stopping by to see what we were doing. Including a large pair of Ravens which seemed to be fascinated with the shiny reflectors. One of the Park Employees decided she needed a Hot Pot so she could cook her own meals since the employees are prohibited from cooking in their dorm rooms.
I kept watching the sky as those pesky monsoon clouds kept building up and by the time the cake got done I could see that if the film crew wasn't already set up at Bad Water ready to roll, there would be no filming today.
Sure enough by the time we got out there it was too late so they offered to get us a room at the resort. We chose instead to let them pay our gas to go to my daughters house in Las Vegas Over night and meet them the next day at 2:00 p.m. again.
We arrived early again, and again ended up on the resort lawn Solar cooking our lunch while we waited. This time it was Solar cooked eggs (hard boiled) and corn on the cob to go with other stuff we already had. And like yesterday we drew a crowd. I was amazed how many people had never heard of such a thing as Solar Energy.
The film crew pulled up just as we got our lunch done and asked if they could buy us lunch! They were pretty impressed that we take our cookers everywhere and can cook anywhere.
Finally, as 2 o clock approached, Ben Smith (the director) let us know that one of the shows "presenters" was sick from the heat so they were going to let her rest a bit but by that time the monsoon clouds were beginning to build again and I pointed out that we should'nt wait too long.
We finally made it to the Bad Water area just a little after 2 and it was 118 degrees with about a 30-35 mile an hour hot wind blowing which created challenges with the cookers. and although the sun kept slipping in and out of the clouds we were still able to get the parabolic (Solar Burner) and the GSO (Global Sun Oven) set up and anchored good as we began preparing what they called the Death Valley Dinner!
The gusting wind kept blowing the parabolics focus off so my Husband had to crouch behind it and hold its focus so we could heat a cast iron griddle to cook an egg and then pop some popcorn. The Chili was warming up in the Sun Oven but we kept losing the sun to those pesky clouds often enough that the chili stayed chilly for quite a while!
The heat kept taking its toll on all of us at one time or other and I was surprised to find that even though I had been drinking a ton of water constantly, and am pretty acclimated to our high desert in Utah, I too succumed to the heat. I noticed at one point that although it was unbearably hot, I had stopped sweating and was feeling chilled and weak. I knew I had depleted the electrolytes in my body and immediately climbed into the SUV the film crew had kept idling nearby with the air conditioning on for their respite when ever they could sit for a few minutes.
After drinking about 1/2 gal. sports drinks to replace my electrolytes I began to feel better and by that time the air conditioner had started blowing warmer air so back we all went into the searing heat!
About an hour or so later, They had wrapped up their scenes for the Death Valley Dinner which ended with totally melted ice cream for dessert! Its a good thing we were done at this point because it was getting really impossible to keep the Sun Oven anchored.
All in all a fun experience but I'm thinking it would be more impressive to show how to Solar Cook in the coldest place in the world, But I will pass on that project. I can't handle extreme cold!
Join in and write your own page! It's easy to do. How? Simply click here to return to Share your Solar Cooking Experiences, Event or Photos!.
---