Easy Egg Casserole at the Park
by James Wampler
(Shelbyville, Ky. USA)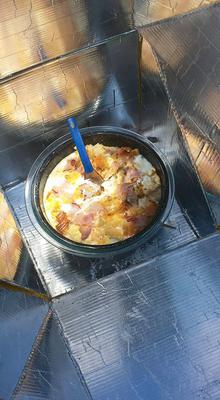 Today I tried building my "quick and easy" repertoire with an easy egg casserole.

Ingredients:
Eggs
Milk
Ham
Bread
Cheese
Spice to taste (we used green chilies, salt, pepper and cholula)

I sat in a hammock with a friend at and we people watched until the casserole was ready for breakfast.

The ASSC assists in having a hot breakfast earlier in the morning than would probably be possible with other cookers.

I had two discussions with passers-by about Solar Cooking and passed on information about the ASSC. They seemed interested! I really wish it was more consistently sunny in our area. It has been raining for almost three solid weeks here in Louisville. I wouldn't say it has rained EVERY day, but it has been cloudy. And when it does rain, it is POURING.

We cooked the casserole for about 45 minutes, and the ham/bread was crispy at the top. It was still very moist on the inside. The advantage of this casserole is that it can be missing quite a few ingredients and still work.

This was relatively simple, and very tasty! Will be doing again.


Join in and write your own page! It's easy to do. How? Simply click here to return to Using Your Solar Cooker.
---