First Time Solar Frying Pastries.....Sopapillas
by Shellie
(St. George, Utah)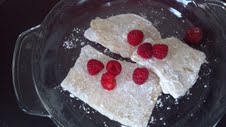 Solar Cooked Sopapillas
Due to some seasonal sickness and recovering from the holidays it has been a few weeks since I last shared any of my adventures in solar cooking.

Thankfully, the last several days have been nice and sunny allowing me to reheat our lunches and today try something new!

I have always wanted to try and fry a pastry using my parabolic cooker and today I did it! It was a little tricky to know how hot the oil was as I didn't have a thermometer but after the first batch I think the temperature must have been pretty close to the recommended 375 degrees F.

We made Sopapillas which are little fried pastries kind of like doughnuts from South and Central America. Once cooked we turned them into both lunch and dessert. While the dough for these was standing I started some fresh mushrooms, tomatoes and a can of black beans cooking in my solar oven. This delicious mixture marinated and simmered together while I fried the Sopapillas on my Parabolic cooker. When all the pastries were cooked we topped some of them with the hot bean mixture resembling Navajo tacos for our lunch and for dessert, dusted the remaining Sopapillas with powdered sugar and topped them with raspberries! Now that's what I call killing two birds with one stone! I have to say although I would not classify me as any fried pastry expert I do have to pat myself on the back for a successful first time solar frying experience!


___________________________________________

Way to go!

Welcome to the Solar Parabolic Frying Club. I'm glad to see others getting the full use and capacity from their Solar Parabolic Cookers.

We love to do Sopapilla on our parabolic as well, along with homemade french fries, scones and onion rings.

I'm glad you have been cooking a variety of things with your solar oven and parabolic.

Nathan
Admin.
Join in and write your own page! It's easy to do. How? Simply click here to return to Share your Solar Cooking Experiences, Event or Photos!.
---