Global Sun Oven: Solar Cooker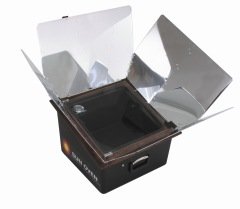 The original Global Sun Oven was discontinued in the Summer of 2013 to make way for the new All American Sun Oven with its new enhancements and improvements.
We invite you to read all about the New All American Sun Oven and see how it can make your solar cooking even more enjoyable.

Please do continue reading about the Global Sun Oven that served its users well for almost 30 years.

The Global Sun Oven is used more than any other brand of solar cooker. It is the number one solar oven in the US and around the world.
History of the SUN OVEN®
GLOBAL SUN OVENS® were developed in 1986 by Tom Burns, a retired restaurateur from Milwaukee, Wisconsin, who was very active with Rotary International. From his experience in operating restaurants he knew a great deal about cooking and from his international travel he became aware of the ever-growing problem of deforestation. Tom took a concept that has been around for centuries and engineered into it more recently developed materials to produce the world's most effective solar cooking devices. With the help of the Sandia National Laboratories the oven was refined.
From 1986 to 1997 SUN OVENS® were made and marketed by Burns Milwaukee, Inc. Thousands of portable models have been shipped to more than 126 countries around the globe. These amazing cookers have helped feed refugees in relocation camps, natives in remote Third World villages, workers at field sites, climbers on the slopes of Mount Everest, and soldiers during the Persian Gulf War. 
In 1998 SUN OVENS International, Inc. was formed and the manufacturing was moved from Milwaukee to Elburn, IL (40 miles west of Chicago). SUN OVENS International, Inc. has expanded the use of the ovens by making them more widely available in the U.S. and around the world. Assembly plants to make GLOBAL SUN OVENS® have been established in a number of developing countries to reduce the cost of the ovens and shipping to the people that need them the most. While thousands of ovens have been sent around the world, there are still more than 2 billion people who cook with wood and charcoal and as populations increase so will the need for SUN OVENS®.
Cooking in this solar cooker is easy, fun, natural, and nutritious, while at the same time helping out the environment.
They are ideal for everyday use in your back yard, at picnics, while camping, or in the event of a power failure. They can help keep your house cool in the summer by keeping the heat from cooking outside. 
Even though it is called an oven, food can be baked, boiled, and steamed at cooking temperatures of 360° F to 400° F. There is no movement of air in the oven, allowing food to stay moist and tender and flavorful. Sun-baked roasts are tastier and more succulent, and sun-baked bread has unparalleled taste and texture. The aroma of food sunning itself is sure to please your senses.
Temperatures in the oven rise slowly and evenly, allowing complex carbohydrates time to break down into simple sugars, emanating subtle natural flavors. The even temperatures prevent burning, so you do not need to stir your food while it is cooking.
There are two ways to cook with this great tool. If you refocus the oven to follow the sun every 25 to 30 minutes, cooking times and methods will be very similar to cooking with a conventional stove or oven. Or it can be used for slow cooking, much like a crock-pot. You can prepare your dinner, put it in the oven, point it where the sun will be approximately halfway through the time you will be gone. Leave, and come home to a tasty, slow-cooked dinner. If you run late, there is no need to worry; it will keep your food warm, moist, and fresh for hours.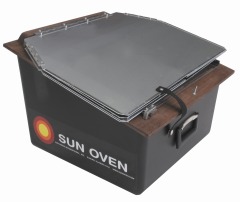 Innovative Features 
One piece collapsible reflectors 
The GLOBAL SUN OVEN® can be set up for use or taken down for storage in a matter of seconds. The reflectors literally fall into place at an angle that allows you to maximize the power of the sun. The reflectors are made of highly polished, mirror-like anodized aluminum that can be cleaned quickly and easily with glass cleaner, and they will never oxidize or rust.

Spill-proof levelator 
There is never any need to worry about your food spilling in a GLOBAL SUN OVEN®. While cooking, your food rests on a shelf that self adjusts to always stay level as you refocus.

Easy temperature monitoring 
A built in thermometer allows you know the temperature at a glance through the tempered glass door/lid.
Self-contained leveling leg 
As the sun is at different points on the horizon the oven can readily be adjusted to follow it. A simple adjusting leg allows you to choose from 9 angled positions.
Extremely well insulated

A thick batt of non-toxic insulation retains heat. Food cooked in the sun and left in the oven will remain hot for hours. Cold air is held out allowing it to be used on sunny days year around regardless of the ambient temperature.
Light weight, easy to carry

The GLOBAL SUN OVEN® weighs only 21 pounds (9.5 kg), folds up like a suitcase, and is equipped with a handle for easy transport. 

Type: Box Cooker with reflector panels
Size and dimensions:

A-(Interior)inside cooking space:
The Global Sun Oven is 14 x 14 by 12inches deep, gradually sloped down to 8 inches deep.
B-(Exterior)outside measurements:
GSO's outside dimension as 19 x 19 with an average 11 inch depth.
Weight: 21 lbs.

Materials: The following materials are used to make a SUN OVEN®:
Reflectors: Anodized aluminum (which will never oxidize, rust or corrode)
Outer shell: ABS plastic
Bezel: (box frame) Poplar wood (kiln dried)
Inner shell: Aluminum (coated with a non-toxic powder coating)
Door: Tempered glass
Between the aluminum inner shell and the plastic outer shell there is a thick batt of food grade fiberglass insulation.
Temperatures:
Avg: cooking temp 285-350

High Temp: 450 degrees Fahrenheit

Special Features: Levelator: A self leveling table (floor) in oven chamber used to maintain pots and foods level when oven is inclined or elevated.
Adjustable leg for elevating the oven.

Availability: Manufactured in the United States and in a number of other countries. Can be shipped from the US to most any country (shipping costs vary from country to country)
Watch short video for tips, suggestions and help using your Global Sun Oven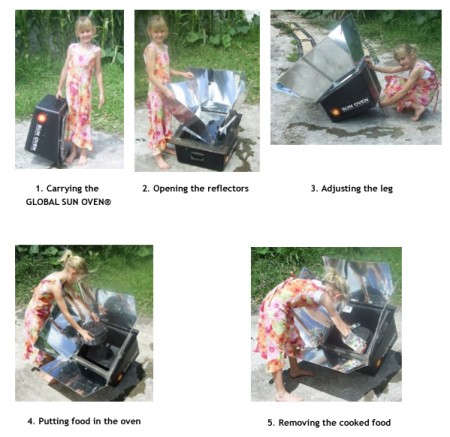 The Global Sun Oven is so versatile and practical that I recommend it to everyone that inquires about which solar ovens would best serve their needs.
The GSO is the Number one selling Solar Oven in the US and the World for good reason;
But if you would like to compare the finer points of all of the best solar ovens available see our Solar Ovens Comparison page
 * See the new All American Sun Oven

Return from Global Sun Oven back to home page 
See our New Solar Cooker Protective Covers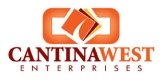 ---