Hot Pot Solar Cooking-the rest of the story
by Christa Upton
(South Dakota)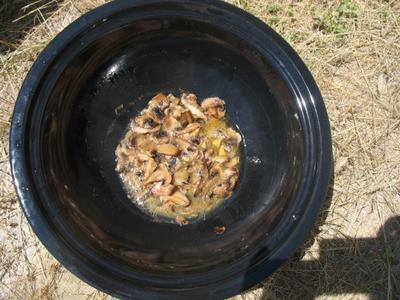 Hot Pot Cooked Mushrooms
The Rest of the Story (more than the pot pie)

Today's Chicken Hot Pot Pie was a long post in itself (though it didn't seem as complicated to cook as it looks! Pretty much just an hour of prep, and then mostly let it go....) But here's the rest of what we did today; (lovely solar cooking day with very few clouds! What blessing it is to be able to Solar Cook!!)

Around 11:00, I got a loaf of Challah rising in one Solar Hot Pot (the leftover dough from earlier this week). This time I brushed it with egg whites. Oh, my, it turned out wonderful! The top browned a little, and the top crust wasn't dry at all.

Obviously I was wrong in my hypothesis earlier; brushing the dough with egg white totally beat brushing with butter!! I wonder why? Maybe the protein in the egg white gave a little "protection" from drying out? (If any science people out there know why this might have happened, let me know—I'm curious!)

Around 11:15, we put out the extra mushrooms that weren't going in the Chicken Hot Pot Pie, in our other Solar Hot Pot. I like to sauté all my mushrooms ASAP for less chance of going bad. Then I put them on pasta, eggs, etc. later. (Sometimes I just salt them and eat them plain!) Anyway, I forgot to preheat the butter and accidently put the butter and mushrooms out all at once. I stirred them around the 20 minute mark, and it worked fantastic despite forgetting to melt the butter first. There just can't be an easier way to cook mushrooms; I love it!!!

After the mushrooms were done, we took them out and started the Chicken Hot Pot Pie for supper. (Of course didn't even need to wash out the Hot Pot. I'm always good with saving my energy! (smile) And water.)

Around 2:30, when the bread was done (SUPER, warm, crunchy afternoon snack!), we put in Easy Sun Fruit Dessert for supper. (Again, no washing needed; just wiped out some of the bread crumbs.) This time we used blueberry pie filling instead of cherry. YUM. (Also for the "cake," increased the wheat flour to 3/4 c., decreased the sugar to 3/4 c., and liked it better this way. See Easy Sun Fruit Dessert post for the whole recipe.) We actually left it out until 6:00, and it was perfect, almost too hot to eat. And no "half-baked" dessert! Amazing that the Solar Hot Pot even browns and "crunches" the top. I think last time, we had quite a few clouds, and this one turned out better. Plus that great summer sun is full-blast now. I guess I'd better do Cosmological Cake and other baked goods soon while they're sure to bake well. (smile)

So my goal is to cook at least 50 different recipes by the end of October. The Chicken Hot Pot Pie was recipe #25, so I'm half-way there!!! It worked out accidentally that I could "celebrate" the half-way point of new recipes with two of my favorite foods—chicken pot pie and blueberries.

Someday when I get internet regularly again, I will enjoy reading others' posts about this amazing journey called Solar Cooking!