My Husbands Homemade Solar Oven
by Helena Chamberlain
(Washington, Utah)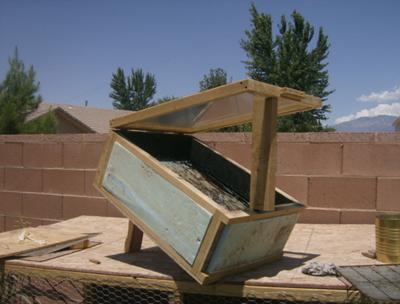 Last summer my husband decided to try making a solar oven for me, this because he felt like they were too expensive to purchase. He built it using a wooden frame, plywood sides and a glass hinged door on top. He lined the inside with sheet metal and painted it black and put insulation on the outside. The first time he heated it up the temperature was at 250 without even having reflector panels. He was very pleased with that, but he has encountered a few problems. With it being such a solidly made oven with wooden components and a double pain glass lid, not to mention the size of it, (A 9x13 pan fits easily with plenty of room to spare) it is heavy and awkward. Since it is not very portable and hasn't been completely finished, I have not used it, but he has.

My husband is a hobbyist beekeeper and for years has wanted a solar wax melter to process old wax and wax cappings. These must be processed at not too high of a temperature and maintain that so the wax can be filtered. This solar oven that he made works perfectly for this purpose, and the larger size allows a tray for the wax to start melting on, filter and collection tray. The weight and awkwardness are also less of a factor for him. In the future he plans on adding reflector panels so he can increase the temperature range so it can be used for other applications besides wax melting. He also plans on mounting this solar oven on a base that can swivel and also adjust the angle of the oven to more easily direct it at the sun. Once he mounts it to the base he will leave it in a permanent location and cover it so it can be left outside all year and not be exposed to the wind, rain and sun when not in use. With these improvements I may even be able to use it sometime in the future. This I am looking forward to since my current solar oven is too small to accommodate a 9x13 pan, and you can never have too much solar cooker space when preparing a meal for the family.



___________________________________________


Thank you Helena,

Almost everyone who is into solar cooking has a story to tell of a "home made" attempt at making a solar cooker.

It sounds like it is a very useful solar oven despite the drawbacks of being heavier and more cumbersome than the smaller units, but if it is eventually made to be a permanent fixture along with the protection measures you described, it should serve its purposes quite well...even to include cooking.

Nathan
Admin.
Join in and write your own page! It's easy to do. How? Simply click here to return to Share your Solar Cooking Experiences, Event or Photos!.
---