New solar cooker
by Cal Griggs
(Laveen, AZ 85339 USA)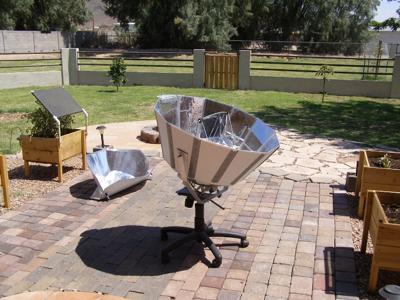 Cooking Father's Day meal veggies & prime rib
I have been making solar cookers of various kinds for a number of years now. This past winter I made the latest cooker of my arsenal to compliment our line of Cookit type cookers, box cookers and parabolic cookers. This one is a parabolic with attitude!

The reflector is made of mylar coated corrugated plastic. Since the reflector stays relative cool, the plastic in the sun is no problem. I have designed it so the reflector can rotate around the cooking pot and lock into place as needed. I have also mounted it on an old office chair roller frame for stability and ease of movement. I also put an aiming device on the upper edge of the reflector to optimize the reflector to the sun.

So far I've cooked everyone's favorite BBQ spare ribs, prime rib, corn on the cob, baked bread, corn bread, cookies in this cooker. You really have to watch what you are cooking as this guy is very fast and hot. For the larger pieces of meat and chicken I use a Weber remote thermometer which is very accurate. The cable runs from the pot to the sensor under the reflector which then sends the data to the house where the AC is keeping me cool.

It's been a lot of fun to use and even more fun seeing what I can do with it.


___________________________________________

Wow Cal, that looks really nice!
Quite the setup and design that you came up with.
I am impressed.

Thanks for including the photos as well, it makes it great for all of our visitors to see the cooker as well.

Thanks for sharing this with us and...keep up the great work.

Nathan
Admin.