Orange Chicken and Snow Peas in the Hot Pot
by Christa Upton
(South Dakota)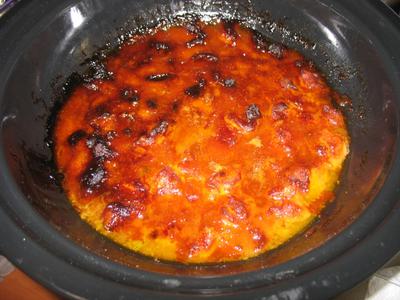 Boneless Orange Chicken from the Hot Pot
Oh, yeah, this meal was as delicious as it sounds!! And all solar-cooked except the rice for under the chicken.

We did orange chicken in our Solar Hot Pot again (see other post for recipe), only this time we used boneless meat. Boneless cooks quicker, so we started it an hour later than the original recipe recommends. It turned out really tasty and tender again. At 5:00 pm, it was still over 180 degrees! (Lots of good sun today.)

We did snow peas in our other Solar Hot Pot. They lost some of their pretty green color, but they tasted great and were perfectly crisp-done! (3:00 to 5:00 pm, with a little butter) We knew they'd be quick, so we used this Solar Hot Pot for corn on the cob for lunch earlier. It was wonderful, too.

So, imagine if everyone solar cooked as much as they could. How much electricity would we save? How much propane/gas combustion and smoke pollution would be gone? How much healthier would we be? It would be so cool. (And I, for one, feel GREAT knowing I am prepared for power loss and can cook with only the sun and my trusty Solar Hot Pots!!) Plus flavors are so intense and yummy. I hope solar cooking catches on really big in the next decade!

If you solar cook, what's your favorite thing about solar cooking?
Join in and write your own page! It's easy to do. How? Simply click here to return to Using Your Solar Cooker.
---