Orange Sun Chicken
by Christa Upton
(South Dakota)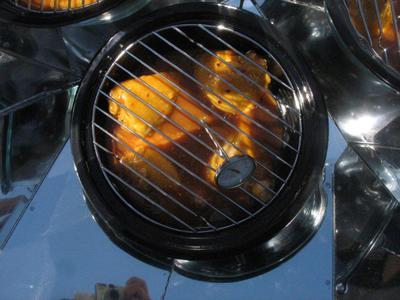 Orange Chicken ready to cook (notice thermometer)
Recipe 14 in the Solar Hot Pot

Orange Sun Chicken

Today we had some fresh mushrooms getting old & needing to be cooked. So around 9:00, we put butter in the Hot Pot. Around 9:30, the mushrooms went in for an hour, stirring once half-way through (because we had a lot of them—16 oz.)—boom, they were done! Easier than the stove, because we only stirred once and otherwise weren't concerned about watching them or burning! After the mushrooms were done, we started on the main recipe for supper (didn't even need to wipe out the Hot Pot. I'm always for saving work. LOL)

This is based on a recipe for crock-pot goose, I think, that I found online somewhere (lost track of where). Probably want to be pretty sure you're going to have full sun, especially in the morning to kick-start it and get it up to temperature. Although, getting to temperature isn't as hard if you do the boneless version.

10:30 am—2 T. olive oil: put in Hot Pot, cover, set up facing the sun, set timer for 30 minutes.

Then prep:

6 pieces bone-in chicken (or could be goose or pheasant if you are a hunter or know some who like to share! smile)
2/3 c. flour (toss with meat to coat meat)

It would also work to take the meat off the bone and cut into small pieces. Overall, the recipe with boneless meat would not take as long to cook, maybe as much as 2 hours quicker.

11:00 am—meat/flour: add to oil, cover, set timer for 45 minutes.

Then prep by mixing:

8 oz. frozen orange juice concentrate, completely thawed (not diluted with water, though)
1 t. vinegar
6 T ketchup
8 T brown sugar
1 T salt
1/2 t. red pepper flakes (optional)
1/2 t. ginger (optional)

11:45 am—pour homemade sauce over chicken, and put baking rack (to hold up thermometer) and thermometer in Pot like this:

Cover, adjust to sun, set timer for 75 minutes.

1:00 pm—check Hot Pot temperature (without opening lid; jiggle to get condensation off); needs to be up to 150 degrees Fahrenheit by now for food safety. If at least 150, adjust to sun, set timer for 90 minutes. (If not, quickly get meat up to temperature using an alternate, hotter heat source.)

It's very "summery" here (I guess not technically summer for another week and a half), and almost zero clouds, so ours is up to 185 degrees already! Hubby predicted a great solar cooking day, since even a couple hours ago, other stuff sitting in the sun was too hot to touch. (smile)

2:30 pm—if still at least 150, adjust to sun, set timer for 90 minutes.

4:00 pm—if still at least 150 degrees, adjust to sun, set timer for when you want to eat! (Well, don't let it go more than 2 hours without checking temp.) To make sure chicken is cooked through, push meat thermometer into thickest part of center piece of meat but not touching bone. Temp. should read 165 degrees.

Serve over rice or pasta. The first time I ever ate this (though from a crock pot), I was immediately addicted! It was so spicy from the red pepper that it burned my mouth and throat going down, but it was a GREAT burn. (smile) (I have no idea why it didn't seem to exacerbate my heartburn struggles, but who cares! Don't ask questions, just enjoy, right? LOL) This time we cut back on the red pepper for the kids' sake, and it is still exceptionally tasty, with that phenomenal fruit-and-meat combo, and sweet and sour plus spicy.

And, oh my, I love that charred skin! I tell you, no crock pot is going to get you wonderful skin like that! (smile) But if you don't like it charred, I imagine you could take the skin off the chicken before cooking and place the chicken in "skin-side" down (to keep the greater part of the meat moist and down in the sauce).