Parabolic Solar Cooker: Photos and images of the "Solar Burner" Assembly

A Parabolic Solar Cooker is a great addition to any solar oven or solar panel cooker.
Not only does it give you added capacity, but it can help speed up your cooking process altogether.
Although most foods are better when they are slow cooked in a solar box or panel cooker, there are times when it is nice to be able to boil, fry, and saute more quickly those ingredients necessary for many solar cooking recipes.
Basic information, tips and suggestions for the Solar Burner Parabolic
We have decided to include in our line of solar cookers a nice, well designed and economical parabolic solar cooker, available right here in the United States, making it much more feasible to own and use your very own parabolic cooker.
* Note: The Solar Burner is manufactured overseas,where most solar cookers/parabolics are, thus the "finish" and "detail" quality are not quite as fine or, to standard, as can be found in US or European manufacturing plants. This does not affect the effectiveness or capacity of the cooker, but rather more so the "aesthetic" aspects.
For those interested in purchasing their own "Solar Burner" parabolic solar cooker you can click on over to this page Buy a Parabolic Solar Cooker
Improved Features on our new Solar Burner
Hand Rotated, Elevation Adjusting

Expansion Bar  for easier focus

More stable base, wider footprint




Included Caster wheels for maneuverability and leveling compensation

Heavy duty, dark pot receptacle

Higher quality paint job

Lighter weight
The "Solar Burner" and our other parabolas are the only solar cookers that do not come pre-assembled due to its size, dimensions and structure. This parabolic solar cooker requires assembly by the customer, but can be easily accomplished following the detail/instruction sheet included with the parabolic. But, just in case there are some doubts or questions, we have decided to also include photos of the process.
Below we have included some photos of the varying stages of assembly of the "Solar Burner" to better facilitate the assembly of your own parabolic.
Pieces/parts of Solar Burner
(does not include steel grate)
---
Base assembly with castor wheels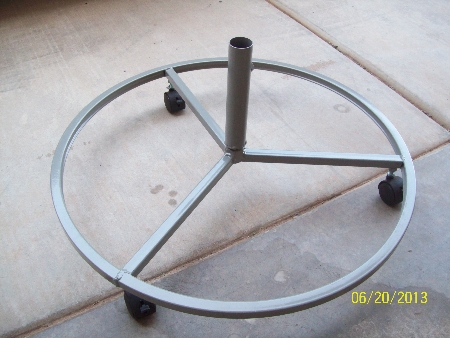 Cross bar or T-bar in base/stand for solar burner


Connecting the parabola support ring to the T-section of base 
Here is where you use the two cotter pins to connect the ring onto the T-section (cross) so that it will remain on the t-section.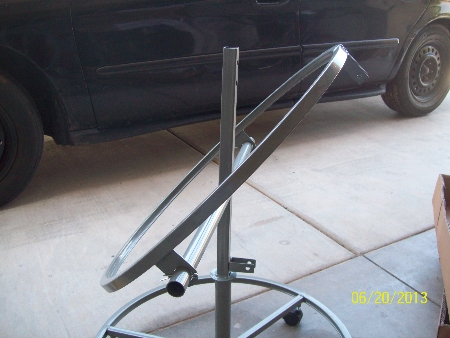 Elevation adjusting Expansion Rod connected to the ring and the T-bar


Use the mid-size bolts and nuts to connect the expansion rod to the ring.


Base/stand with braces/brackets
Mid-size bolts and nuts are used for the mounting brackets on the ring.


Completed Base/Stand with pot receptacle
(does not include steel grate)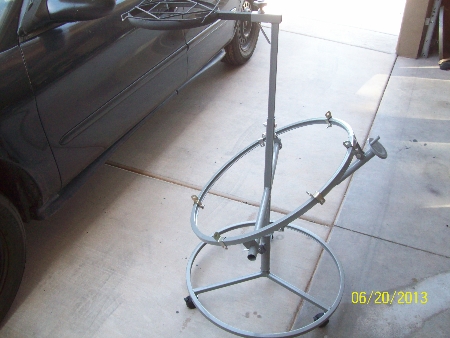 Assembling the sections of the parabola (leave the third hole empty, screw will go in later when attaching the parabola to the ring...use smallest screws/nuts)


Fully assembled Solar Burner (view from back)
(does not include steel grate)
Solar Burner Fully assembled and ready to cook with

(does not include steel grate)

Solar Burner Temperature reading: 822 F +


Some Quick Statistics
Shallow Parabola
Focus length 60 cm. (23.62 inches)
1500 watts power on sunny day
Focus area 1.5 square meters (16.15 sq ft)
Focal spot temp 824 F.+- (440.56 C)
Diameter 1.5 meters across (4.92 ft)
Weight assembled 35 lbs.
Assembly video of the Solar Burner


Here is a great video from a customer of ours,Raymond Lohengrin, showing great use of his solar parabolic cooker
One Customer's Solar Burner Modifications 
---
Do you own this same solar cooker?
How have you used this solar cooker in a unique or different way?

How have you improved this solar cooker and its capabilities?

Share with us and out site visitors...
Return from Parabolic Solar Cooker back to Solar Burner main page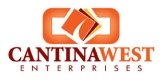 ---