Perfecting the $5 Parabola (Part 1 of 2)
by Brad
(Las Vegas)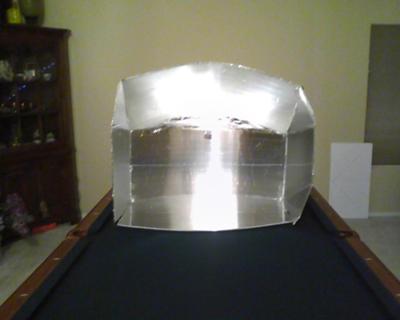 Last week, I took the two parabolas that I had built, and detailed in a previous submission to this site

https://www.solarcooker-at-cantinawest.com/solar-parabolictrough-hybrid.html

and put them together to form a "solar cave" (first picture). Although I had high hopes for this idea, and was able to cook sliced potatoes in a cocotte

https://www.solarcooker-at-cantinawest.com/cocottes-for-solar-cooking.html


in 2 1/2 hours...the results were less than expected. The temperatures were good, but not great, and certainly did not exceed those of the ASSC's that I had previously built. I believed that my solar cave's parabola was not curved enough to bring the focal point to where I had positioned the pot. Research was needed.

First, let me review how I made this parabola. I took a 40" x 32" foam-board, and cut it lengthwise to make (2) 40" x 16" boards. Foamboards are available at craft and hobby shops in various cut sizes. I then took a cork, wire, small nut (8-32) and washer (1/4 SAE Flat), to form a tensioning bow. I ran the wire through a punched hole at each end and pushed the board down to bow it, while I took up slack at the point where the two ends measured 28 1/2" apart. This created a parabola, where the x-axis was 14.25" and the y-axis was 13".

As hard as I tried to find a formula for the focal point, which some say is y = x squared / 4 focal point, I could only find a picture that showed a parabola similar to mine, where the focal point was where I wanted it to be...(figure 5) found here:

http://www.wmueller.com/home/papers/optics.html

Continued on Part 2 of 2.
Join in and write your own page! It's easy to do. How? Simply click here to return to Share your Solar Cooking Experiences, Event or Photos!.
---