Side by Side Comparison
by James
(Shelbyville, Ky. USA)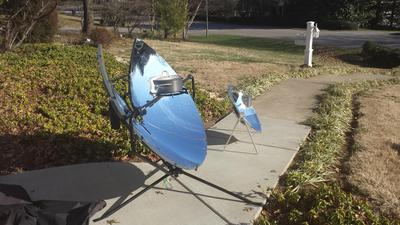 I had an opportunity this week to run the "Sun Juicer" side by side with the SolSource.

It was a nice opportunity, because the Sun Juicer is a design that is approaching something achievable for late middle school/early high school students. It does not have the surface area to do the same type of cooking as the SolSource, but did boil two cups of water in about 50 minutes (rolling boil). Water began to bubble consistently at the 35-40 minute mark. Most camp food requires one or two cups of water, so this seemed like a good benchmark.

I used the boiled water from the Sun Juicer to prepare rice for my red lentils, which were cooking on the SolSource.

Even if you aren't really into vegetarian food, this red lentil dish is nice!

I got it from AllRecipes. I'd encourage you to link to it, since they have pictures and feedback from other people who cooked the dish. I didn't have any turmeric, but it tastes just fine! :)

Once I cooked up the lentils, I served it on top of rice. It reminds me of a nice Indian dish.

I was unable to get my evacuated oven reflector set up in a way that pleased me, so that is still on my priority project list. I'd also like to see if I can find a way to simplify the sun juicer panel to make it a little more user friendly.

One K.I.S.S (Keep It Simple, Stupid)principle that i like from the sun juicer is the string adjustment that it used to modify the rotation of the dish about the x axis (pitch up and down). I might modify my SolSource with a similar set up. The adjustment piece that comes with the SolSource is subpar. The burner itself is amazing! It is just unfortunate that the device is hampered by a dinky clamp.


Join in and write your own page! It's easy to do. How? Simply click here to return to Using Your Solar Cooker.
---