Solar Baked Tilapia Tacos
by Shellie
(Hurricane, Utah)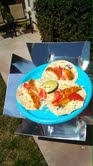 The lime in the crust of this fish added the freshness in flavor that left me daydreaming of being on a beach. These tacos were quick and delicious! Thank heavens I live in the desert where it is really starting to warm up and feel like Summer. The heat encourages me to cook some lighter meals which is a fun change after the cold winter months.

After my Sun Oven reached 375 I put the fish in to bake. 25 minutes later the crust was crispy and the fish done. I placed the fish on a corn tortilla, topped it with cabbage, tomatoes and a squeeze of fresh lime juice. A trip to paradise over lunch with no cost in fuel! Now who couldn't appreciate that?!


___________________________________________


Wow, this sounds delicious...and even exotic;
Fish (Tilapia) Tacos...
Way to be adventurous.

Nathan
Admin.