Solar Cooked Berry Cobbler
by Shellie
(Hurricane, Utah)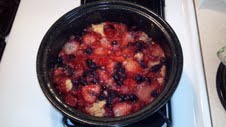 Solar Cooked Berry Cobbler
This turned out simply AMAZING! I highly recommend this easy recipe that is perfect for any sweet tooth craving you may have. I found this recipe on www.chef-in-training.com and have been anxious to try it. Thankfully, this week there has been lots of good sunshine! Here's what you need:

1 cup flour
3 Tb. sugar
1 tsp. baking powder
1/4 tsp cinnamon
1 egg
1/4 c. fat free milk
2 Tb. canola oil
1/8 tsp. salt
2 cups raspberries or strawberries
2 cups blueberries
1/2 Tb. lemon juice
1 cup sugar
1/4 c. flour

Set out the Sun Oven to preheat.

In a large bowl, combine 1 cup flour, 3 Tb. sugar, baking powder and cinnamon

In a small bowl combine egg, milk and canola oil. Whisk together until completely blended.

Add egg mixture to the flour mixture and stir just until moistened.

Spread over bottom of a round granite ware pot.

In a medium bowl, combine 1 c. sugar and 1/4 cup flour and salt. Next add in berries (fresh or frozen) and lemon juice. Stir until completely and evenly coated in the sugar flour mixture.

Evenly distribute the berry mixture over batter. Cover and cook until bottom layer is done in a cake like consistency. At 375 F my Sun Oven had it cooked in 1 hour. I topped it with a bit of cool whip and enjoyed almost the whole thing myself. (yep, I am only a little embarrassed admitting that but it was really that delicious!)



___________________________________________


Great Recipe!

And way to keep on solar cooking despite the cold temps outside!

This goes to show that you can enjoy the benefits of solar cooking all year round.

Looks very delicious.

...you did share some of it, did you not?

Nathan
Admin.
Join in and write your own page! It's easy to do. How? Simply click here to return to We want YOUR Solar Cooking Recipes!.
---