(Solar Cooked) Mushroom Beef Fiesta Bake
by Shellie
(St. George, Utah)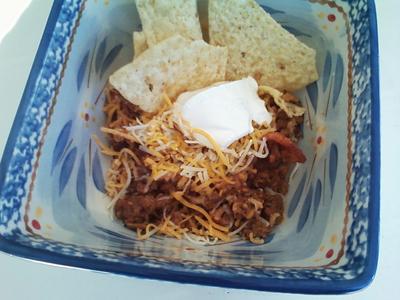 Earlier this week it was nice and sunny. Yesterday and today it was not so much. I am glad I took advantage of those nice days when they were here. This meal was enjoyed even the next day for lunch and it got even better! I chose this casserole because I had never cooked rice in my Global Sun Oven and it was a necessity that I figure it out asap as it is one of my husband's favorite foods.

Here are the ingredients:

1 lb. hamburger
1/2 c. fresh sliced mushrooms
1 Tbs. dehydrated onion
1 can tomato soup
1 can beef broth
1 c. brown rice (not instant)
1 tsp. barbecue seasoning


1. Set out your Sun Oven to preheat.
2. Brown hamburger, onion and mushrooms on your stove top or parabolic cooker.
3. Add Barbecue seasoning, beef broth and tomato soup. Simmer for 5 min.
4. Pour 1 cup rice into pot you will be cooking in and top with the hamburger mixture.
5. Cook for 1 hr or until rice is soft.
6. Top with sour cream, cheese and corn chips. Enjoy!

I am pleased with the way the rice cooked and soaked in all the flavor. Rice on my range can seem so temperamental but cooking in my GSO made it so easy and it turned out perfectly. I will be trying many more rice recipes as soon as possible.



_________________________________________


Thank you for sharing your recipe and your success.
This sounds like something I would like, since it's ingredients are all things that I like.

I am glad it turned out so well.

Nathan
admin.

Join in and write your own page! It's easy to do. How? Simply click here to return to We want YOUR Solar Cooking Recipes!.
---