Solar Cooked Pizza Dip
by Shellie
(Hurricane, Utah)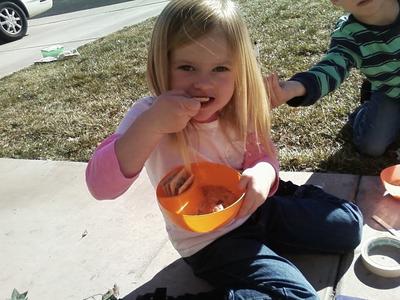 Pizza dip with crackers as a snack
This was a super easy dip that can be used for any Italian dish you enjoy! Once cooked we ate it with crackers for a snack and then spread on wheat flat breads with some ham for dinner. We broiled them to crisp up the bread and brown the ham. Delicious!

Here is what you do:

Set out your Sun Oven to preheat

Blend 1 pkg cream cheese, 8 oz ricotta cheese, 1/2 c. Parmesan cheese, 1 c. mozzarella cheese, 1 clove minced garlic until smooth. Spread in the bottom of pan.

Spread 1 1/2 c spaghetti sauce over the cheese mixture and sprinkle 1/2 cup mozzarella cheese on top of that, sprinkle 1 tsp. Italian seasoning and 1/4 tsp salt over the top.

Cover and bake until hot and bubbly about 30 min. at 350 F. Enjoy!


____________________________________________


Mama Mia! Suena tan delcioso!

(Italian and Spanish mix) ;)

Sounds too easy and really tasty.

...and even better, it cost nothing to cook it.

Thanks for the recipe.

Nathan
Admin.