Solar Cooker Variations on Italian Supermarket Bread
by Karen Haight
(Wakefield, MA)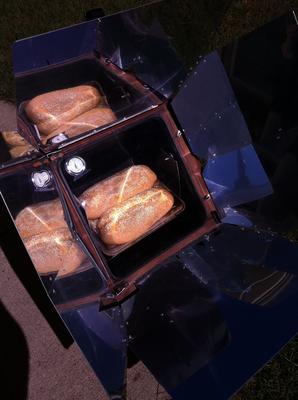 Freeform loaves on sheet pan (in the Sun Oven)
My family loves bread. I bake it from scratch almost daily - in the summer, this used to mean a really hot kitchen! Fortunately, my solar oven does as good a job with bread as the electric oven, without heating up the house.

The original Italian Supermarket Bread recipe can be found on the King Arthur Flour website, here: Italian Supermarket Bread

I swap some of the white flour for whole wheat, add a little extra water to compensate for the drier flour & sometimes bake in bread pans. The recipe is quick, easy & forgiving!

***VARIATIONS ON ITALIAN SUPERMARKET BREAD***

2 1/2 cups All Purpose Flour
1 1/2 cups Whole Wheat Flour
1/4 cup dried potato flakes ("instant mashed potatoes")
1/4 cup dry milk ("powdered milk")
2 tsp granulated sugar
2 tsp salt
2 tsp Instant Yeast (a.k.a. "Bread Machine yeast". If you only have "active dry yeast" use 2 1/4 tsp instead.)
1 1/2 cups lukewarm water
3 TBSP olive oil (or any cooking oil)

Topping:
1 TBSP milk
Sesame seeds (a couple TBSP should do)

Dump everything in a big bowl, or use your stand mixer. Stir together, then knead for 5-8 minutes until a smooth dough forms. (Add extra flour/water as needed to make a smooth, not sticky, dough. It shouldn't take much, if any!)

Cover dough & let rise about an hour - it should just about double in bulk. The more wheat flour you add, the longer the rise may take - that's OK!

Transfer dough to lightly greased work surface. Divide it into two pieces. Shape each piece into a smooth 16" log. Place each piece into a greased bread pan. (If you're really resourceful, you can shape each loaf "freeform" on an oiled 1/4 sheet pan, as shown in the photo. Traditional Italian loaf pans are a little long for even the All-American Sun Oven, unfortunately!)

Cover & let rise again for another hour, until very puffy.

Focus your solar oven during the second rise, aiming for 400F. (On a clear New England fall day, this is no problem!) If your temperatures are running lower, you'll just need to add a little extra time baking. Not to worry, this loaf will bake even at 250-275F!

Brush the top of the loaves with milk, then sprinkle liberally with sesame seeds. If you're really feeling Italian, slash the loaves diagonally for an "authentic" look. Transfer the pans immediately to the oven to bake.

Bake for about 25 minutes, or until the top is golden brown & the internal temperature of the bread reaches about 200F using an instant read thermometer. If your oven temperatures are running lower, don't fret. It'll finish eventually! If you don't have an instant read thermometer, the bread should sound hollow if you tap on it lightly. (But consider picking up an instant read gadget...you'll use it a lot with solar cooking!) On poor-sun days, I've had to bake this well over an hour...it still tastes delicious!

Remove bread from oven, turn bread out from pans and cool on wire rack completely before slicing. (As if anyone will be able to keep hands off that long...go ahead and dig in! It's just bread!)

Feel free to tinker with this recipe - change the ratio of white/wheat flour, use white/red wheat, top with different seeds (sunflower is yummy!), use milk instead of water...this recipe adapts well to what you have on hand. Keep in mind that the higher the percentage of whole wheat flour, the less rise you'll get & the more liquid you'll need to make a smooth dough. If you have technical baking questions, stop by the KAF website above - they run an online baker chat service to answer your questions about ingredients & bread techniques.



__________________________________________


Wow! Great Detail Karen,

Thank you for the recipes and the great instruction. This should be very helpful to others.

Nathan
Admin.