Solar Cooking Demo at Preparedness Fair
by Joyce Lee
(S UT)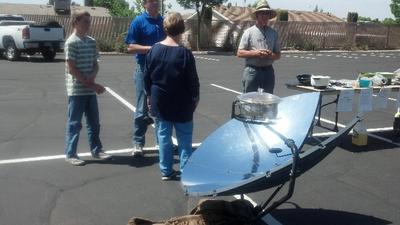 Solar Cooking Demo and Curious Participants
The Morning Of This Demo Started Out Looking A Little Scary Clockwise. We Are Getting Rather Used To It Lately.
In All My Years Here In S. UT (Which Is All Of Them), I Don't Remember Such A Weird Weather Pattern Going This Late Into May.

My Husband And I Traveled To Washington, UT To A Preparedness activity To Set Up And Demo Solar Cooking
The Clouds Were Looking Like They Were Thinning Out A Little So I Automatically Scaled Back My Expectations And Proceeded To Put Only "Warm Up" Foods In The Cookers Like Precooked Meatballs. But By They time They Were Heated Through, The Clouds Had All But Thinned Away!

Next I Cooked Sausages,And Pancakes On The Sol Source And Then Put A Big Pot Of Jambalaya On it.
While That Cooked And Smelled Wonderful, I Put Pie Crusts On For A Rocky Road Brownie dessert. And Corn On The Cob.

We Had Quite The Feast Considering That There Was A Mix Up Of The Time On This Event And It Ended Sooner Than We Had Thought.

As Soon As The Event Ended, The Clouds Built Up Thick Again.

But We Had Plenty Of Food For A Couple Days.
And Who Can Complain About That!!!!!
Join in and write your own page! It's easy to do. How? Simply click here to return to Share your Solar Cooking Experiences, Event or Photos!.
---