Solar Oven Caribbean Beef Stew
by Beth
(Missouri)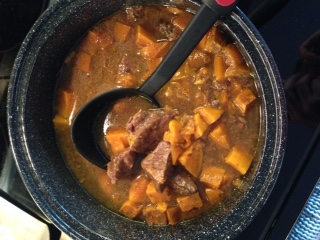 Solar Cooked Carribean Beef Stew

Today I decided to try my hand at making a recipe from my current issue of Food Network Magazine: Caribbean Beef Stew. It is originally for the slow cooker, but I've found these recipes work just as well in the solar oven.



I compiled all the ingredients and set the pot in the preheated solar oven. I placed it in at about 12:30 PM and the temperature was registering about 250 degrees F. I checked the progress several times, turning the cooker into the sun. The top temperature it reached today was about 300, but the day was intermittently cloudy (just the small, fluffy ones floating quickly by), and the high was just about 70.



I removed the pot from the cooker around 5:30, and by that time, the sun was low in the sky and the cooker was partially obscured by tree shadows. But it was still keeping the stew nice and warm for our dinner at around 150 degrees.



The result was a delicious stew. The beef chunks were tender and the sweet potato was falling apart, making the stew rich and thick. Overall, 3 out of 4 in our family rated it a "do-over"!


Stew Before


Stew After!