Solar Cooked Quinoa...
Fresh tasting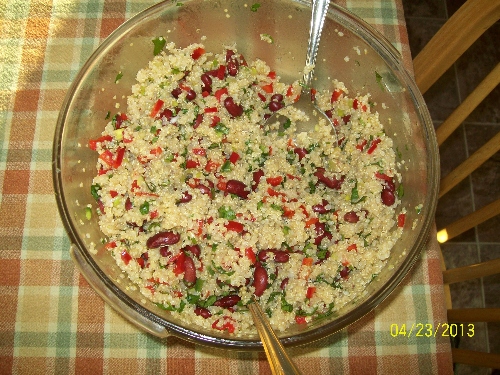 A Solar Cooked Quinoa Salad that tastes, oh so fresh...

There is not much solar cooking to this recipe beyond cooking the Quinoa and maybe your beans and the sauteeing of some of the ingredients on a parabolic, (or even in a solar oven) but we found this recipe so delightful and very tasty, fresh and nutritious...
Quinoa Black Bean Salad ( shared from an acquaintance)

Ingredients:
1 cup quinoa
1 1/2 cups cold water
2 cups ( or 1 can) cooked black beans. If using canned beans, drain and rinse well
1 jalapeno pepper, seeded and minced
2 garlic cloves, minced, OR 1 tsp garlic powder
1/2 cup chopped celery
1/2 cup red pepper, diced
1/2 cup green pepper, diced
1 tsp cumin powder
1 tsp coriander powder
2 Tbsp chopped fresh cilantro or basil
1/4 cup chopped scallions

Dressing:
3 Tbsp freshly squeezed lime juice (juice of 1 lime)
2 Tbsp olive oil
1/2 tsp salt
Fresh ground pepper
pinch of cayenne or chili powder

Directions
The quinoa can be made ahead of time and refrigerated
Rinse quinoa and drain through a large fine mesh strainer
Place in a 2 qt pot with 1 1/2 c. water and 1/2 tsp salt
Bring to a full boil, cover tightly, turn down to low, and cook for 12 minutes
Remove from heat and allow to sit 5 minutes covered
Fluff quinoa gently with a fork and set aside to cool
If using canned beans, drain, rinse and set aside to drain

Sauté jalapeño, fresh garlic, in 1 tsp olive oil until garlic is slightly browned
Add the celery,, green & red peppers and sauté 5 minutes
Add the cumin and coriander, cook and stir 2 minutes
Blend dressing ingredients with a whisk or shake in a jar
Add quinoa, black beans, sautéed veggies, tomatoes, cucumber, fresh minced cilantro or basil, scallions, to a large
bowl.
Pour on dressing and stir gently to combine. Adjust salt and pepper to taste Serve quinoa salad warm, or cover and
chill

Optional items to add:
1 medium ripe tomato
1 cup chopped cucumber 1/4 cup sliced olives
Can be used as a warm salad or chilled.
Return from Solar Cooked Quinoa back to recipes page

---