Solar Oven Spanish Seafood Paella

Solar Oven Spanish Seafood Paella fully cooked in our AA Sun Oven

You'll find nothing tastier than Solar Oven Spanish Seafood Paella...even our guests who are picky eaters thought this was delicious. And we give all the credit to the sun...
--Preheat solar oven
---If you have a second solar cooker, preheat your measured water while preparing ingredients.
Ingredients:
Half Green Bell Pepper

three large cloves of garlic
small red or yellow onion
one small jalapeno seeded or without seeds
can of small chopped clams
half pound of peeled small shrimp, more if you like

can of smoked oysters
1 large Polska Kielbasa Sausage (or similar sausage)

1 tsp of black ground pepper
1 tbs of salt
1 teaspoon of paprika
1 teaspoon of ground/flake oregano
1/2 teaspoon of ground/flake basil
1/2 teaspoon of cummin powder
1 tsp garlic powder
2 tbs cooking oil

1 teaspoon of saffron or two teaspoons or the cheaper safflower

3 cups of rice
6 cups of water (part of your liquid can be beef/chicken broth if you would like added flavor.

Directions:
Chop/dice the onion, garlic, green and jalapeno peppers and place into a large, dark covered cooking pot.
Add Salt and other dry seasonings along with the cooking oil and mix in pan until well coated with oil.
Place in pre heated Solar Oven and allow to cook and brown for 20 minutes
Chop sausage into bite size cubes
When Onion/garlic/peppers and dry ingredients are cooked add and mix in the rice, sausage, shrimp, clams (with juice) and oysters (with juice/oil)
Add the already heated water to the whole mixture and stir well.
Cover the pot and place the all the ingredients back into your hot solar cooker and allow to cook for about 30-35 minutes.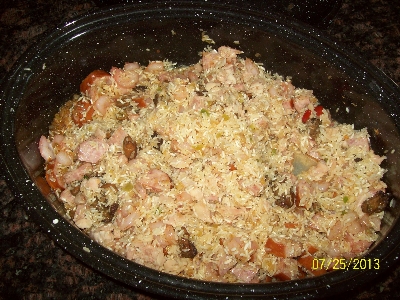 Raw ingredients mixed and waiting for the Pre heated water

Solar Oven Spanish Seafood Paella is one of the most flavorful rice dishes we do in our solar cookers and is really quite easy to make.
When I am pressed for time, I will start the whole cooking process on one of my Solar Burner parabolic cookers, because it cooks faster, and will cook the dish about halfway and then I will place it into my solar oven to finish out the remainder of its cook time.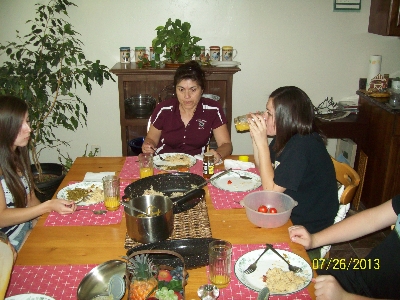 Everyone found the Paella to be very delicious, even the finicky eaters

The meal was finished off by seven big eaters. It took two hours total to fix and cook and fifteen minutes to disappear.

Return from Solar Oven Spanish Seafood Paella back to recipes page.

---