Springdale, Utah Earth Days 2014 Solar Cooking Demo
by Joyce Lee
(UT)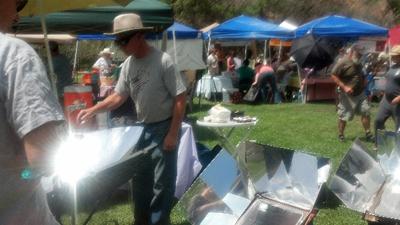 Dell cooking on the parabolic
Saturday In Springdale, Right At The Entrance To Zion National Park Turned Out To Be A Fabulous Day For An Earth Day Celebration.
The Sun Has Been Playing Hide And Seek With Us A Lot This Spring So I Was Extremely Happy When The Day Dawned Pretty Clear.

This Particular Earth Days Celebration Is always A Fun Place To Do A Solar Cooking Demo Because Along With The Locals In The Area, There Are A Lot Of Tourists Visiting Zion National Park And Many From Europe Have Never Even Imagined Such A Thing As Solar Cooking.

My Husband And I Started Out With Bacon And Eggs On The Sol Source Parabolic Cooker. The Smell Of Bacon Always Draws A Crowd And They Are Pretty Impressed That Such Yummy Food Can Be Cooked With Only The Sun For Power. A Few Always check Furtively for A Power Cord Plugged In Secretly!!!!!

While My Hubby Cooked On The Sol Source, I Got A Quick And Yummy Snack Made With Soup Crackers Marinated A Few Minutes In Oil, Ranch Dressing Mix Powder, Onion Powder, And Red Pepper Flakes Ready To Bake For 10 Minutes In The Sun Oven.
While That Marinated, I Got Yams In The Hot Pot To Make Into A Yummy Salad Later.
For almost 4 hours, We Cooked Cornbread, Corn On The Cob, Pizza Bites, Cupcakes, Italian Meatballs With A Yummy Red Sauce Using My Custom Recipe. I Was Prepared To Mix Up Bread Dough But Got So Busy I Never Got It Done And Then With About 2 1/2 Hours Left, The Clouds Came Floating Over Slowly And So Our Power Became Sporadic.

We Had A Wonderful Time Visiting With People Though And Met A Particular Couple Who seem To Be Like Minded Who Were Going To NM This Summer To Look Into The Process Of Building An Earth-ship.

Great Day And Fun Demo!
Join in and write your own page! It's easy to do. How? Simply click here to return to Share your Solar Cooking Experiences, Event or Photos!.
---