Sun Cooking Experiments in Florida
by Dana
(Saint Cloud, FL)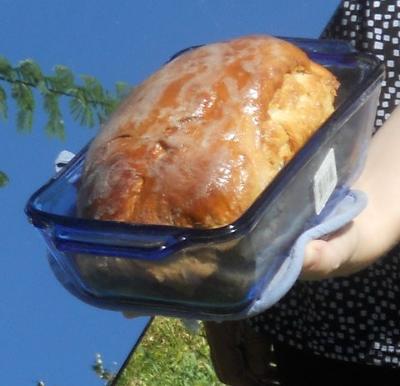 Slow cooked loaf of bread--suprisingly tasty and moist
I'd always imagined that Florida, with six months of temperatures in the 90s, and a location in the sub-tropics, would be ideal for solar cooking. While I was thinking primarily of the sun's heat, I had not accounted for two other common factors here--humidity and clouds--both of which limit the sun's effectiveness in solar cooking. And so, in my very rough and simple attempts at solar cooking over the years, I was less than successful.

In the past few months,however, as a birthday present, my husband worked hard to create a more substantial solar oven for me, and with this big box, we've finally succeeded at cooking food! Still, we find that most days we can only get to between 225 and 250. We had one cloudless day, in the low 80s, during which the oven got to 310, and so we wait, hopefully, for the cooler but clearer days of winter which eventually do reach Florida.

In the meantime we are continually tweaking our homemade cooker. And with clouds still an issue, and a move to Arizona out of the question, I've begun to rethink how I use my sun oven.

In the first place, I switched gears to "crock pot" mindset--if I can slow cook it in the crock pot, I should be able to slow cook it in the sun oven. So I'm looking for crock pot recipes.

Secondly, my husband loves to make roasts in our kitchen oven at 250 for 5 hours, so I figured that would work in the sun oven, too, and we have indeed made some incredible sun-cooked roasts and stews.

Thirdly, although cast iron takes a few minutes longer to heat up than other pans, I almost always use that type of pan, because once cast iron reaches a temperature it doesn't cool down much at all when the sun is behind clouds.

Some things that I've successfully slow cooked at temperatures between 200 and 250:

Bread (probably my happiest success!)--250 degrees

Hard boiled (baked?) eggs--at 200-225, the first egg was very soft boiled after 1 hour; the second was almost hard-boiled at an hour and a half; the third was absolutely perfect at 2 hours.

Stew--always a hit

Roasted butternut squash--favorite with the grownups

Baked potatoes (cut open and covered with cheese for the last 10 minutes)

And one not-quite-success--nacho chips covered with cheese, diced tomatoes and green onions. Although this was still edible and heated all the way through after 15 minutes between 175 and 200, the chips, instead of crisping up like they do in my regular oven, were a bit stale. They sure looked pretty, though :-)

Clear sunny days are hopefully soon in our future, but until then, I'm delighted with what we've been able to slow-solar-cook.


__________________________________________


Great narrative and insight!
This should cause any one who has been hesitant to attempt solar cooking, because if you can do it in less than ideal conditions then anyone can do it, I say.

I believe you will see a different sky over Florida once the heat and humidity subside.

By the way, I know several people who solar cook all the time in Hawaii and in parts of Hawaii they have similar climate/conditional challenges as well, but they seem to do alright with their adaptations.

Thanks again for sharing,

Nathan
Admin.