Sun-Candied Cereal in a Hot Pot
by Christa Upton
(South Dakota)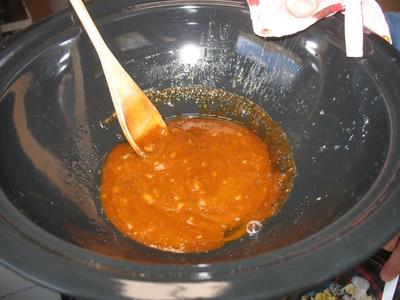 Syrup after 40 minutes in Hot Pot
Recipe Two of my New Adventure with the Solar Hot Pot

Sun-Candied Cereal

How about a recipe that's easier (in some ways) than on the stove? Much less stirring needed, because the Hot Pot will not burn the butter or the sugar!

10 am—1/3 c. butter: cut in pieces and put in pot, cover, set up facing the sun, set timer for 30 minutes.

It was really cloudy when we started the butter, but it melted in 23 minutes anyway. Smile

10:30 am—1/2 c. packed brown sugar: stir into melted butter; set timer for 30 minutes.

Okay, so a huge line of clouds came in and almost completely covered the sky (waaa, it was supposed to be sunny today), and the sugar didn't really warm/cook like it was supposed to; the Hot Pot is cold. So, we're going to wait and see if the sun comes out later today to finish the 'syrup.' Since it is only butter and sugar, there is no food safety issue and we can just leave it in the Pot and wait!

Later.... The sun came out and stayed out! After about 30 minutes, the sugar and butter were bubbling nicely!

After about 30 minutes of sun on sugar/butter mixture or until it bubbles a good bit—open lid and quickly stir.

After about 10 MORE minutes of sun on sugar/butter mixture—4 c. oat rings or other cereal: stir into butter/sugar mixture until cereal is thoroughly coated. (You can't really ruin the sugar/butter if it bubbles a bit shorter or longer than that.)


Optional—stir in:

raisins
cashews
sunflower seeds
other nuts and/or dried fruit
chocolate chips

Pour out of Hot Pot onto a cookie sheet. Cool 1 hour; store in airtight container. Yummy snack, and has the merits of whatever cereal you use—we use whole grain with fiber and some added vitamins.

We were going to cook chili in the Hot Pot for supper, right after finishing that cereal snack, but it's not a good idea to start 'sensitive' food on an iffy/very cloudy day! Plus we're running out of good sun time to get it done anyway. So Sunny Chili will have to wait until another day (and we'll just throw it in the crock pot for today instead)! That's okay—something to look forward to—trying chili in the Hot Pot. Smile

BUT, the cereal snack turned out SO YUMMY (and the sun is still out) that we decided to do another batch right away! (This first batch probably won't make it through the day with our hungry children. Smile )

With the sun now high in the sky and fewer clouds, the butter only took 10 minutes to melt! Another way to write this recipe would be: melt butter, add sugar and wait until bubbles, stir once, cover and let cook 10-15 minutes more, stir in cereal.

Bring your afternoon cup of coffee and a book out, to read in between steps of the recipe, and this recipe can be done in time for an after-school snack for the kids!

One thing about solar cooking—flexibility is a help, but conquering the challenge of being flexible with 'adverse' circumstances is very satisfying! (Yes, I am smarter than the weather. LOL)



_________________________________________


Thank you for sharing this with us.
Sounds like a great solar cooked treat for more than just the kids.

Nathan
Admin.