SunCook First Use Report
by Steve
(Portland, OR)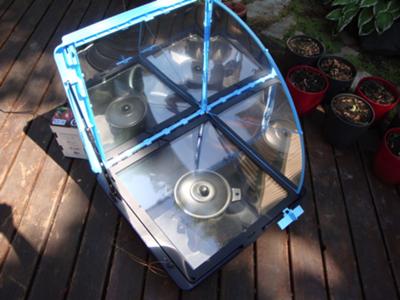 My Mung Beans in SunCook
The SunCook Solar Oven is very well designed. Everything is well thought out and it is well built. I got mine from Nathan (on this website), and he provided very good service.

I tested the SunCook with mung beans. I placed a thermocouple under the cooking pot and recorded the heat up rate of the SunCook. On a 80+ deg F sunny day in the Portland, OR area, the SunCook took about 1 hour to boil 1 kg of water and mung beans (starting temperature was 30 deg C or 86 F).

The cooking temperature topped out at ~114 deg C (237 F), which is significantly higher than the normal boiling temperature. This is because the cooking compartment is well sealed and the cooker actually acted as a pressure cooker. I got my fingers burned by the pressurized steam when I opened the cooker lid, and I was wearing work gloves! So be very careful when opening the cooker. I cooked the mung beans in the SunCook from 12:30 to 4 PM and they were very well cooked (totally mushy).

Overall, we are very pleased and satisfied with the SunCook.

One more thing to remember: The reflectors are very thin aluminum sheets and they dent easily. So handle with care. A few small dents won't hurt the performance at all, but it hurts the look a bit.

-Steve


__________________________________________


Greetings Steve,

Thank you for sharing your thoughts, opinions and your experiences with your SunCook Solar Oven.
This is exactly what will be helpful to others that are looking at getting into solar cooking; real firsthand experiences from actual solar cooks.
It sounds like you had some good success with your initial first use of the cooker. I'm glad to hear it went well.

Please do share any other experiences, and recipes if you wish, here on our site with our site visitors.

Nathan
Admin.
Join in and write your own page! It's easy to do. How? Simply click here to return to What is your favorite Solar Cooker?.
---