Sun-Fetti Rice
by Christa Upton
(South Dakota)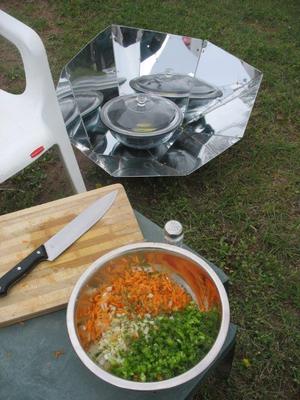 Chopped veggies all ready
Recipe Five with the Solar Hot Pot

Sun-fetti Rice (Crock-pot Pineapple Chicken below as well)

Today we are being brave—trying rice for the first time in the Hot Pot! And it's supposed to be 'mostly cloudy'—ugh. (Most of this whole week is supposed to be cloudy!)

Back up plan: try to cook just the veggies in the pot; cheat with microwavable Minute Rice! Then mix them together at the last minute.

In the electric crock pot, we are doing pineapple chicken (recipe below—we will probably try this in the Hot Pot sometime!) Note: you will have to start the chicken marinating the night before and put it in the crock pot early on the morning of meal if eating at lunchtime like we are. IOW, marinate 4 - 12 hours and cook chicken in crock pot 6 - 8 hours on high.

So, on to the rice!

10:30 am—6 T butter: cut in pieces and put in Hot Pot, cover, set up facing the sun, set timer for 30 minutes.

Then prep:

1/2 onion (finely chop)
1/2 sweet pepper (finely chop)
2 carrots (grate)
1 stalk celery (finely chop)
salt (sprinkle on veggies)
parsley (sprinkle on veggies)



11:00 am—veggies and seasonings: add to Hot Pot, stir into butter, cover, set timer for 15 minutes.

11:15 am—water & dry white rice: add, stir, cover, adjust to sun, set timer for 1 hour.

Well, that's what we were supposed to do.... We are really fighting a losing battle with the clouds, so we're deciding now to microwave the rice. Bummer. However, it will not hurt to leave those veggies out there and see what happens—maybe the sun will peek out enough to cook and sweeten them up a bit!

But to tell you more about rice: you can add the water to the veggies and 'preheat' the water for 30 minutes, or you can add both rice and water at once. After an hour, you can check to see if it's done by swirling the pot (pick up with pot holders—if the sun it out, it will be hot!) Don't take the lid off, but swirl enough to get the condensation off the lid and look through and see if the water is all absorbed. If not, check at 15 or 20 minute intervals to see if it's done. I'll probably try again on another day and let you know how it goes!

Oh, and if you'd like to make this a main dish, you could add pre-cooked meat at this point—like fully-cooked chunks of bratwurst, link sausage, ham, or even hot dog bites. Just try not to fill your Hot Pot more than 2/3 full for best cooking. If adding meat, you might need to cut back on the amount of rice and/or veggies.

Back to the veggies.... So the clouds came and went, but mostly came, and unfortunately the Pot didn't get very hot. I admit—we had to microwave the veggies as well as the rice! (Plan C) (Dump veggies/butter into microwave safe bowl and microwave a few minutes at a time until soft, about 7-10 minutes all together.)

Moral of the story: when the weatherman says it's going to be mostly cloudy, plan the Hot Pot for another day! LOL

I'll give you a picture of our meal anyway, with somewhat-sunny veggies, Smile cheater rice (oh, well), and crock pot chicken:



It was really delicious! The juicy chicken and sweet-and-sour pineapple went very nicely with the crunchy carrots and other veggies. Yum. Didn't work out so well with the clouds, but the clouds mean we just have a good excuse to try again with the sun! Smile


Crock-pot Pineapple Chicken (as I said, want to try in Hot Pot sometime. If you try it before I do, let me know how it goes! LOL)

Place in zip-top bag set in large bowl:

5 lb. chicken pieces (bone-in)
½ c. chopped onion
1 lg. red pepper, chopped

Mix together, pour over chicken in bag, fridge 4-24 hours to marinate:

20 oz. crushed pineapple
1/2 c. + 1/8 c. frozen orange juice concentrate (not diluted)
1 T Worcestershire sauce
1/2 t. salt (or more to taste)
1/8 t. ground cloves

Pour all in crock pot. Cook on high 6 - 8 hours. Serve over Sun-fetti Rice.