Sun-fetti Rice—Take Two! (With Meat)
by Christa Upton
(South Dakota)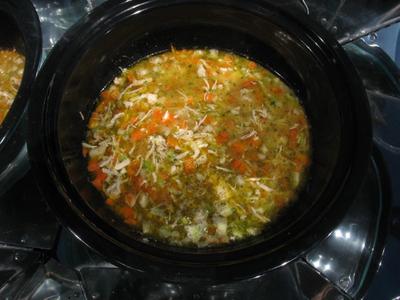 Sunfetti and Meat ready to cook
Recipe 17 with the Solar Hot Pot

Sun-fetti Rice—Take Two! (With Meat)

Second try with rice, and this time we want a main dish, so we are going to add meat (& more seasonings).

10:00 am—6 T butter: cut in pieces and put in Hot Pot, cover, set up facing the sun, set timer for 30 minutes.

Then prep:

1/2 onion (finely chop)
1/2 sweet pepper (finely chop)
2 carrots (finely chop)
1 stalk celery (finely chop)
salt (sprinkle on veggies)
parsley (sprinkle on veggies)

10:30 am—veggies and seasonings: add to Hot Pot (listen to it sizzle!), stir into butter, cover, set timer for 15 minutes.

Prep by opening one 13 oz. can of chicken, drain (save broth if you like), and stir in:

1 t. ground sage
1/2 t. poultry seasoning
1/4 t. thyme
light sprinkle of dried rosemary

Or, the day before, you absolutely could make some nice chicken by cooking raw, bone-in chicken with the above seasonings and a little water in the Solar Hot Pot! I hope I can do that next time! Take the chicken off the bone and then use it (and any broth that collects, and even the fat if you like!) in this recipe!

10:45 am—2 c. water or chicken broth, 1 c. dry white rice, seasoned chicken: add, stir, cover, adjust to sun, set timer for 1 hour.


11:45 pm—check to see if rice is done by 'swirling' the pot (pick up with pot holders—it should be hot!) without taking the lid off. See if all the water is absorbed into the rice. Ours wasn't even close, so we adjusted to sun and set timer for 1 hour.

12:45 pm—check for doneness; if not done (ours wasn't), be aware of food safety and finish at a higher temp. if need be. Ours had been bubbling at 11:45, so we knew it was hot enough for food safety, so we left it to cook some more.

(Keep checking until done. Don't leave for more than 2 hours at a temperature below 150 degrees Fahrenheit.) When it seems to be getting close, grab a spoon and quickly get a little out to taste (cover while tasting).

1:15 pm—We took ours out thinking it was done. Note—get rice from the CENTER of Pot to taste, not the edge. Don't ask how we know. LOL Although actually I'm going to tell you how we know—ours was definitely crunchy rice. LOL But, it had good flavor, and "crunchy rice" never hurt anyone. (smile)

Like some other recipes I have written, I wasn't sure if this would be enough seasoning. With the addition of the salty canned chicken broth, the seasoning turned out very nice. It was savory and kind of "creamy." Reminded me of hearty stuffing meals but lighter and more "summery." I LOVED the sweet carrots in it, and they were perfectly done. (smile)

Okay, now we're doing chili in the Solar Hot Pot for supper—what fun this is—a whole day of solar cooking! Just gave the Pot a good wipe (so the chunks or residue wouldn't "cook onto" the Pot).

I'll put the chili in a separate post.