Sunny Taco Beef
by Christa Upton
(South Dakota)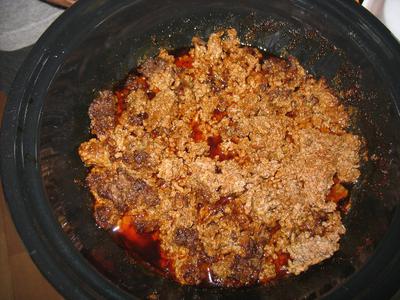 Taco Meat from the Hot Pot Solar Cooker
Recipe 32 in the Solar Hot Pot

Sunny Taco Beef

We based this on Alton Brown's recipe for taco meat, with his Taco Potion #19, but made it less spicy (for the kids). http://www.foodnetwork.com/recipes/alton-brown/taco-potion-19-recipe.html

I guess since I changed amounts, this would be Taco Potion #20. LOL

9:45 am—1 T oil: put in Solar Hot Pot, cover, set up facing the sun, set timer for 15 minutes.

Then prep:

1/4 of a medium onion (chop finely)
1 clove garlic (smash and mince)

10:00 am—veggies: add, cover, set timer for 30 minutes.

10:30 am—2 1/2 lb. ground beef: add, cover, set timer for 1 hour.

Then prep by mixing:

2 1/2 T. chili powder
2 T. cumin
1 T. corn starch
3 t. paprika (You have to use Hungarian of course. LOL See Nupshugahr Chicken Paprikash post to find out why.)
1 t. coriander
1 dash cayenne
1/2 t. salt

11:30 am—spices: add, cover, adjust to sun, set timer for one hour.

12:30 pm—check to be sure meat is done or at least at 150 degrees Fahrenheit. (If not, finish with higher heat.)

Stir thoroughly and drain grease. (Can use grease to sauté veggies for soup or substitute for butter or oil in a recipe later.) Serve with taco shells or chips, tomatoes, lettuce, sour cream, etc.

Hubby says this was a delicious, hearty, taco meat.