Sun-warmed, Spiced Apple Cider
by Christa Upton
(South Dakota)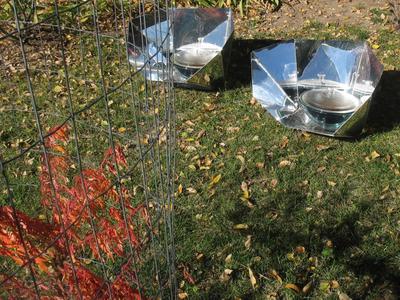 Hot Pots cooking spiced apple cider
And now to conclude with:

Recipe 50 in the Solar Hot Pot!

Sun-warmed, Spiced Apple Cider

It has been SUCH a fun season of solar cooking!!! I'll end with a nice treat for a fall day.

My hubby actually made homemade cider, because he is tired of the pasteurized stuff from the store. (smile) He used the blender to puree some apples and squeezed the juice out using a cheesecloth.

It was a ton of work, and he said he'd never do it again, ever--until he tasted it. Then he decided that he couldn't live without it and trying to find an easier way to do it was imperative. LOL It is amazing stuff. Tastes like autumn in a cup.

But of course you can use any cider.

Prep:

4 c. apple cider (set out to bring to room temp to help heating time, if desired)
4 sticks cinnamon (put in cider)
1 t. whole cloves (put in cider)
dash nutmeg (put in cider)
dash allspice (put in cider)


12:00 pm—put all in Hot Pot, cover, set up facing the sun, let it go! (Well, set timer for 2 hours if you are afraid you'll forget it. LOL And you can adjust to the sun after each hour to make it heat better, too.)

So I've been thinking and trying to decide which solar cooked recipes were my favorites.

I think I'd have to say these made the top of the list:

many veggies that were so easy to cook and so nice when done (kale chips, roasted garlic, sautéed mushrooms, roasted tomatoes, spiced carrots….)
Sunny Yellow Quiche with Potato Crust

Nupshugar Chicken Paprikash
Chicken Hot Pot NOT Pot Pie
Orange Sun Chicken
Sunbeam Meaty Beans
tomato-basil Solar Baked Flatbread, and
Chocolate Sun Fondue


If you solar cook, what are your favorite recipes or foods to do?

Okay, so back to the apple cider…. I actually ended up putting some rocks underneath the back side of the Pots to boost the angle a little. I could not remember how to flip the panels (ugh, blasted brain fog), and hubby was busy, so the rocks were my adaptation. LOL I think it helped.

What fun to work outdoors in the cool, autumn air (messing around in the garden), enjoy lunch, and then come back around 2:00 for warm cider! It was just warm enough--perfect for drinking.

And now, lifting my cider--a toast to all you readers and solar cooks out there, and to Nathan Parry and Cantinawest!!!

Have a wonderful winter, and I hope to see many more Hot Pot Solar Cookers in the sun next summer! (smile) Also best wishes to you hearty solar cookers who have the kinds of cookers (and latitudes) where you can cook all winter!