Tastes like Sunshine!
by Les McEvers
(Sacramento, CA)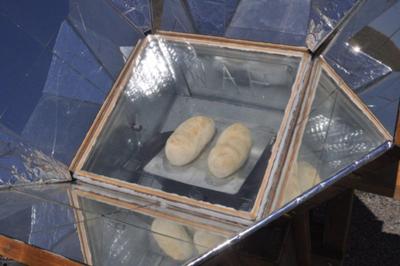 Solar Cooked French Bread
I have always thought it would be neat to be able to really cook stuff without fuel. Recently, I had the time to devote to creating something that can do just that.
My goal was to build an oven that would cook french bread. My wife and I love home cooked french bread and I have baked two loaves a week for several years. Unfortunately, baking really heats up the house and the summers in the Sacramento valley can be very hot, so a solar oven for my bread seemed like a perfect solution.
Cooking bread in a solar oven has been done for years, but concessions are usually made for the lower temps you typically see in box type ovens. I wanted to be able to cook as if I had a regular oven.

Anyway, I found a great design for a well made solar oven on the internet by a guy named David Omick. I built it and it worked great. Only problem was that it had trouble getting over 350F. My bread needed 375F to get nicely brown and crusty......so I added some wings to his design and viola, 400F.

I have attached a couple of pics.



____________________________________________

Thank you Les,

I have to say that is a mighty nice looking and impressive "homemade solar oven".

I can tell you took some time to do it up right.
Those are some great temperatures for a solar cooker, perfect for doing bread...and one of my favorites, Angel Food Cake.

Thank you for sharing.

Nathan
Admin.